PM Nguyen Xuan Phuc welcomes Softbank, Japan's largest financial service group, to expand cooperative activities with Vietnamese firms at his meeting with CEO of Softbank Masayoshi Son on October 22 in Tokyo.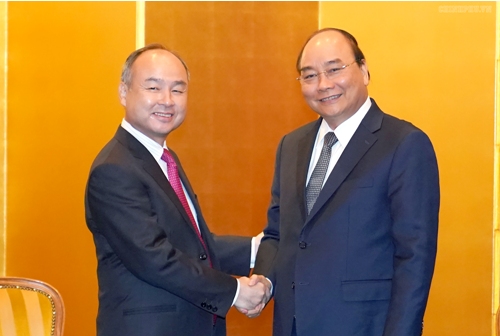 PM Nguyen Xuan Phuc (R) meets CEO of Softbank Masayoshi Son in Tokyo, Japan, October 22, 2019 
At the meeting, Phuc referred to the importance of Viet Nam-Japan intensive strategic partnership, saying  that it brings benefits for each side, and expressing his delight with the contributions of Softbank though its projects in Viet Nam. 
Softbank has gained benefits from investments in Viet Nam, especially through fund investment activities and technology firms, said Masayoshi Son, suggesting the nation continues attracting more foreign investments, which may reduce risks and brings new technology for Viet Nam. 
At the meeting, leaders of Grab said that Grab has poured more than US$200 million in Viet Nam thanks to investment from Softbank, which has created more than 220,000 jobs. 
Grab tends to add US$500 million in Viet Nam in the next five years to develop fintech, mobility and logistics in the country. 
Welcoming investment activities in Viet Nam, Phuc suggested Softbank head to invest in Viet Nam in areas of high value along with financial, logistics and technology services, including the establishment of an innovation center for the Vietnamese Government, asserting that the Vietnamese Government will create all favorable conditions for Softbank to launch successful operation in the nation.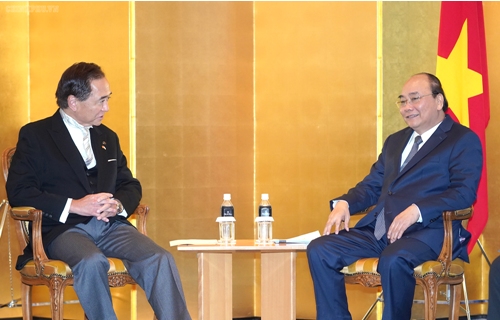 PM Nguyen Xuan Phuc (R) meets Governor of Kanagawa Prefecture Yuji Kuroiwa, Tokyo, Japan, October 22, 2019 
During the meeting with Governor of Kanagawa Prefecture Yuji Kuroiwa, Phuc conveyed condolences to Japanese people suffering from consequences caused by Typhoon Hagibis. 
He spoke highly of efforts of the Governor and the Prefecture's authorities in enhancing cooperative relations between Kanagawa Prefecture and Viet Nam through initiatives and activities, especially when Viet Nam Festival in Kanagawa and Kanagawa Festival in Ha Noi have become annual cultural exchange events. 
Viet Nam always expects to boost the relations with Japan in general and Kanagawa Prefecture in particular, asserted the PM, suggesting the Governor and the Prefecture's authorities encourage their enterprises to accelerate investment in Viet Nam and enhance local-to-local exchanges, tourism cooperation and cultural exchanges.
The PM proposed creating favorable conditions for Vietnamese community and students to live and study in Kanagawa, strengthening cooperation in human resource development and receiving more Vietnamese interns and laborers. 
Yuji Kuroiwa said the Prefecture's enterprises are concerned about seeking for cooperative and investment opportunities in Viet Nam, hoping to receive more Vietnamese workers in the upcoming time. VGP 
Thuy Dung