Prime Minister Nguyen Xuan Phuc congratulated former Minister of Health Nguyen Thi Kim Tien, 60, who recently took over the post of Head of the Board of Healthcare Services for Senior Officials.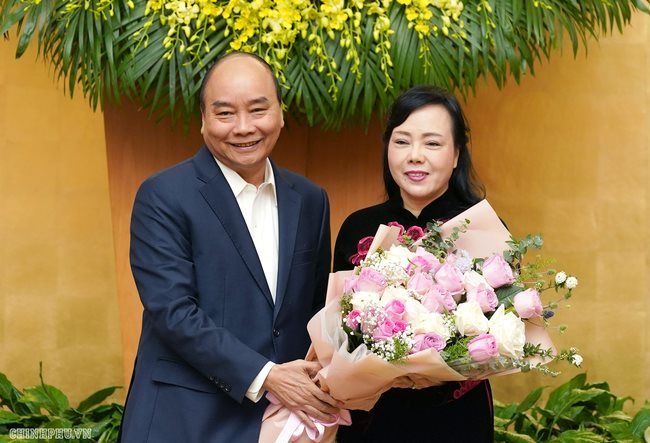 Prime Minister Nguyen Xuan Phuc gives a bouquet of flowers to former Minister of Health Nguyen Thi Kim Tien at a Cabinet meeting in Hanoi on December 2 – PHOTO: VGP
The Cabinet leader Phuc was quoted by the Government news website as saying that that during her two-term tenure as the minister, the spirit of patient care among healthcare workers saw many improvements.
Also, the pricing of health services and the move toward autonomy at some hospitals have seen some initial progress, and living standards among healthcare workers have improved.
The prime minister noted that the local healthcare sector has contributed substantially to raising the life expectancy of the Vietnamese people to 74 years over the past 10 years, thanks to better efforts in preventive healthcare, medical examinations and treatment.
In response, Tien expressed gratitude to the Cabinet members who had offered their support and collaboration for the healthcare sector. She pledged to do a good job in her new position.
National Assembly deputies on November 22 voted to relieve Tien from her ministerial post, with 395 out of 431 lawmakers voting in favor, 29 voting against and seven abstentions.
Even though Tien's term of office has yet to end, she has reached retirement age. She held the health minister position for eight years.
Earlier, Deputy Prime Minister Vu Duc Dam, a member of the Government's Party Civil Affairs Committee, was appointed to the post of Secretary of the Party Civil Affairs Committee at the Ministry of Health, replacing Tien's Party post.
Therefore, Dam is responsible for day-to-day operations at the ministry until a new health minister is chosen. SGT

Member of the National Assembly (NA) Standing Committee and Chairman of its Committee for Legal Affairs Nguyen Khac Dinh and Minister of Health Nguyen Thi Kim Tien were relieved from their posts to assume new duties on November 22.