Prime Minister Nguyen Xuan Phuc has urges firms to prepare scenarios to ensure they can continue operation in any circumstances.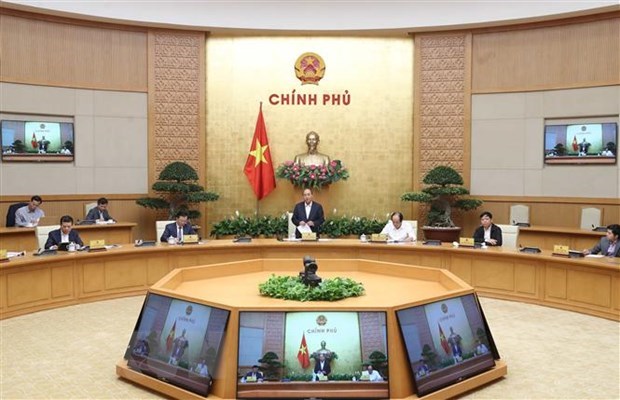 Prime Minister Nguyen Xuan Phuc speaks at the meeting.
The leader made the suggestions at a meeting in Hanoi on March 12 with representatives of private economic groups in tourism, services, aviation, food and industry, to consult them on national economic development in the context of the COVID-19 epidemic spreading globally.
PM Phuc described the domestic business community as a bastion in the fight against diseases and social recession, and lauded their active role in job generation and ensuring the macro economy.
He expressed his approval for the enterprises' measures during this tough time, especially improving governance, restructuring, applying technology and expanding linkage and cooperation.
The PM also urged businesses to optimise opportunities generated by the EU-Vietnam Free Trade Agreement (EVFTA) and the domestic market with a population of nearly 100 million.
He assigned localities to take synchronous measures in support of enterprises, particularly those hard hit by COVID-19, and pledged that the Government will set forth suitable mechanisms to assist sectors that are severely affected by the epidemic, especially aviation, tourism and services.
The participating businesspeople expressed their belief in the country's macroeconomic stability as well as the Government's resolve in completing the twin targets of containing the COVID-19 outbreak and ensuring economic development.
Ho Ngoc Yen Phuong, Deputy General Director of Vietjet Air, proposed that the Government roll out supportive measures for the aviation sector, including exempting import duty and environmental tax for jet fuel and reducing 50-70 percent of aviation fees such as fees on take-off and landing and airport services.
She also asked the Government to promote investment attraction in aviation infrastructure.
Other business representatives suggested localities increase dialogues with enterprises to collect their ideas on disease combat, while helping them remove difficulties in business and production./. VNA
Prime Minister Nguyen Xuan Phuc issued a directive on March 11, requesting stronger actions to prevent and control COVID-19 amid new developments of the outbreak.

PM Nguyen Xuan Phuc on March 9 demanded more drastic, comprehensive and prompt solutions to effectively contain the spread of Covid-19 and strict penalties for those caught intentionally concealing symptoms of the disease.