President Nguyen Xuan Phuc alongside a high-ranking Vietnamese delegation arrived at José Martí International Airport at about 9 pm (Vietnam time) on September 18, starting an official friendship visit to Cuba.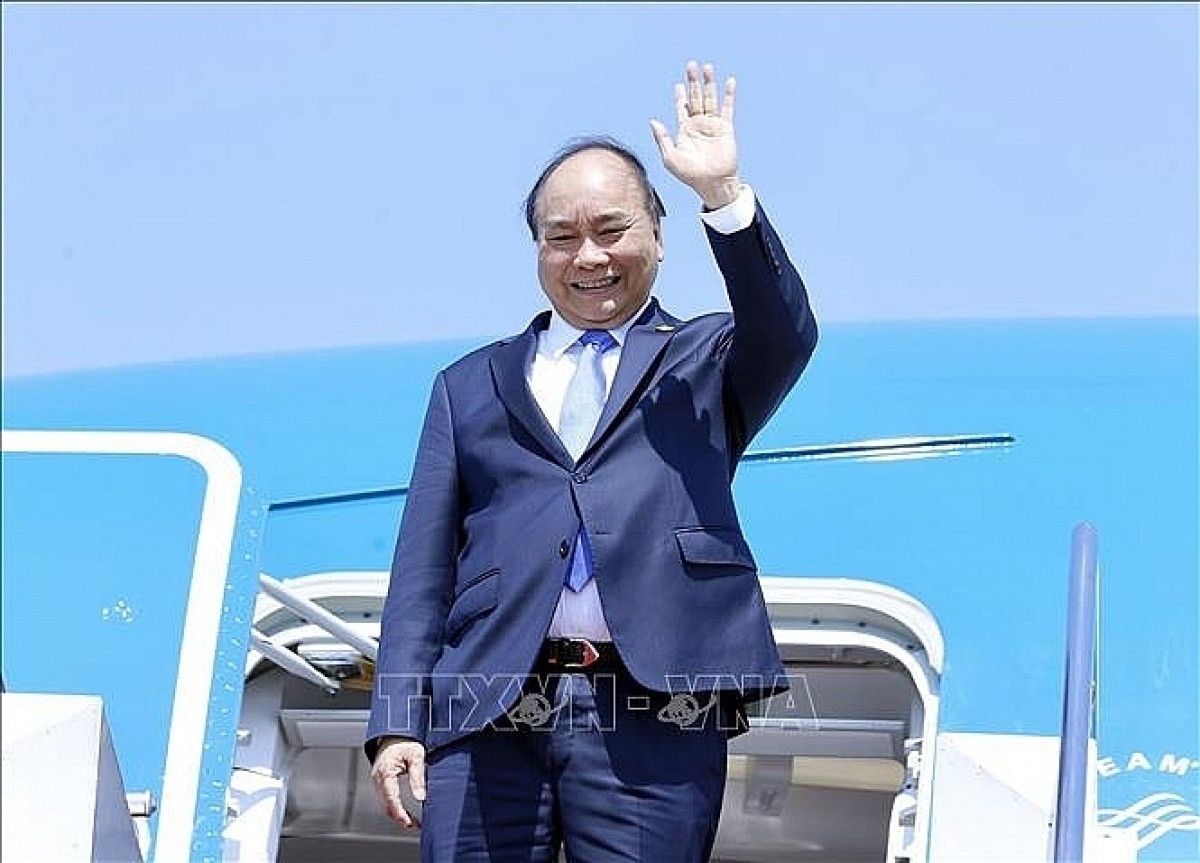 President Nguyen Xuan Phuc arrives at José Martí International Airport in Cuba, beginning his official visit to Cuba (Photo: VNA)
Those welcoming President Nguyen Xuan Phuc and his delegation at the airport, on the Cuban side included Politburo member and Vice President Salvador Valdes Mesa, and some officials from the Ministry of Foreign Affairs. On the Vietnamese side, there were Le Thanh Tung, Vietnamese Ambassador to Cuba , embassy staff and Vietnamese community representatives in Cuba.
As planned, President Nguyen Xuan Phuc is scheduled to hold talks with Miguel Díaz-Canel, First Secretary of the Communist Party of Cuba's Central Committee and Cuban President, and meet with Manuel Marero Cruz, Prime Minister, and Esteban Lazo Hernández, President of the National Assembly of People's Power of Cuba.
During the visit, the two State leaders will witness the signing of a number of cooperation documents between the two countries, including an action plan for the medium-term economic agenda, and cooperation agreements on justice, health care, fisheries, agriculture, cybersecurity, clean energy, and hotel construction.
President Phuc is set to have a host of meetings with the First Vice President of the Cuban Institute of Friendship with Peoples (ICAP), the President of the Cuba - Vietnam Friendship Association, and representatives of the schools named after President Ho Chi Minh, Nguyen Van Troi, and Vo Thi Thang.
In addition, he will visit the Vietnamese Embassy and the Center for Genetic Engineering and Biotechnology (CIGB), and meet Vietnamese community representatives in the Caribbean nation.
Source: VOV
President Nguyen Xuan Phuc will lead a high-raking delegation of the Vietnamese Party and State to pay an official visit to Cuba from September 18 to 20.