Vietnam and Australia should increase trade and investment ties while stepping up cooperation in other important spheres such as education, culture and tourism, creating a firm foundation for the expansion 
and enhancement of comprehensive cooperation, said Prime Minister Nguyen Xuan Phuc.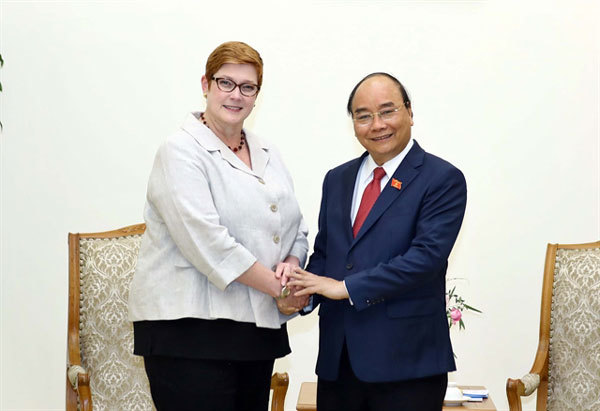 Prime Minister Nguyen Xuan Phuc (R) meets Australian Foreign Minister Marise Payne in Hanoi on Thursday. — VNA/VNS Photo Thong Nhat
Meeting Australian Minister of Foreign Affairs Marise Payne in Hanoi on Thursday, PM Phuc also suggested the two sides effectively uphold the current bilateral cooperation mechanisms.
He asked the two sides to review the implementation of the Viet Nam-Australia action programme for 2016-19 and begin the building of an action programme to implement the strategic partnership in the next period with special measures and goals to deepen bilateral cooperation in all fields.
Relations between Vietnam and Australia have been developing fruitfully in recent years, PM Phuc said, adding that Australia has annually trained nearly 30,000 Vietnamese students.
Two-way trade reached US$7.7 billion in 2018, a year-on-year rise of 19.3 per cent. Australia currently ranks 19th among 128 foreign investors in Vietnam with total investment of over $1.84 billion, while Vietnam is running 47 direct investment projects in Australia.
PM Phuc spoke highly of Payne's role in and significant contributions to promoting the Vietnam-Australia strategic partnership.
He welcomed Payne for selecting Vietnam as one of the first countries to visit in the second week of her new working tenure.
PM Phuc hoped Australia will continue providing official development assistance (ODA) for Vietnam and assisting it to improve administration capacity and experience in managing the economy amid the Fourth Industrial Revolution and e-government.
Regarding the East Sea issue, PM Phuc clearly stated that Vietnam highly appreciated Australia's viewpoint and hoped Australia will continue to have a strong voice and back the stance of ASEAN and Vietnam with the spirit of peace, friendship, freedom of aviation and navigation, and compliance with international law.
Payne said she will spare no effort to promote the relationship between the two countries, adding that Australian PM Scott Morrison attaches great importance to cooperation with Vietnam and hopes to visit the country soon.
She agreed to PM Phuc's proposal on stepping up bilateral trade and investment ties, saying the CPTPP has opened up many cooperation opportunities and many Australian businesses want to increase investment in Vietnam.
The minister said she will direct the Australian foreign ministry to expand new cooperation with Vietnam in the spirit of strategic partnership.
Australia is willing to support Vietnam in implementing its development priorities such as infrastructure, digital capacity and cyber security as well as continue strengthening coordination with Vietnam in the East Sea matter to ensure regional peace, stability and prosperity, she said.
VNS