The year 2020 marks many historic milestones for Vietnam, including the 70th anniversary of diplomatic ties with key partners such as Hungary, the Czech Republic and Romania. Here Vietnam News introduces an outline of the relations.
Immigration, education highlights of Hungary partnership
Hungary and Vietnam established an official relationship in the 1950s. Since then, Hungary and Vietnam have developed relations, with Vietnamese students and workers often going to Hungary to pursue higher education.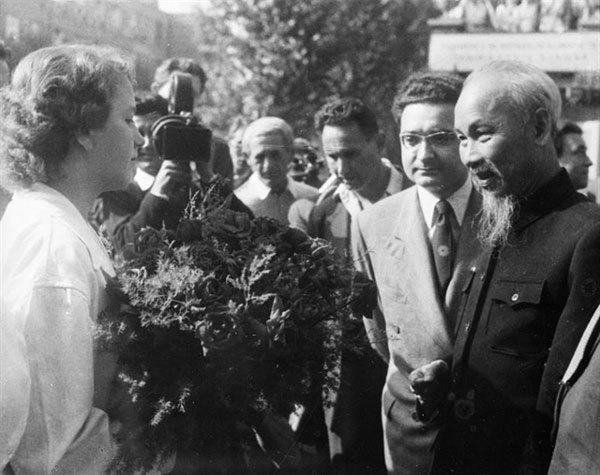 Workers at Tungsram lighting company welcomed President Ho Chi Minh when he visited in August, 1957. VNA/VNS Photo
Vietnam considers Hungary an important economic and key partner in central Europe, due to its diverse ties and rich history. The two countries developed a strategic partnership in 2018, with the Hungarian Prime Minister referring to Vietnam as a success in the far east.

The Vietnamese community in Hungary is small and, despite historic immigration. In 2018, the Hungarian government officially recognised a pagoda that had recently been built by the Vietnamese community.

Ties with Czech Republic go from strength to strength

Foreign relations between the Czech Republic and Vietnam were established on February 2, 1950.
As of 2018, there were 61,097 Vietnamese citizen with residence permits in the Czech Republic, making them one of the largest immigrant groups in the country and the largest non-European group.
Vietnam is one of the most important trading partners with the Czech Republic in Southeast Asia. Bilateral trade has been growing steadily and trade volume has exceeded US$1 billion. Last year, exports from the Czech Republic to Vietnam reached $140 million while exports from Vietnam to the Czech Republic hit more than $1 billion.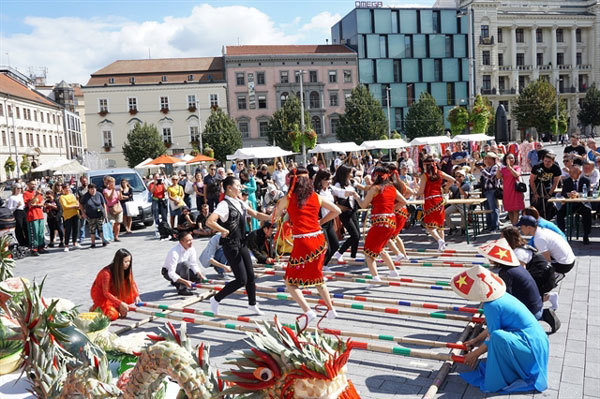 A Vietnamese Cultural Day Festival in Brno, a city in the Czech Republic last year. VNA/VNS Hong Ky

Historic and time-honoured links with loyal friend Romania
Having adopted bilateral diplomatic ties in 1950, Romania was one of the first countries to establish a relationship with Vietnam.
Romania has supported Vietnam during the country's struggle for independence, reunification and national construction. More than 3,000 students, post-graduates and trainees have been sent to Romania, while over 2,000 Vietnamese labourers are working in the European nation. Over the decades, Romanian universities have trained more than 4,000 specialists for Vietnam.
Since 1990, the countries have signed documents to create a legal framework for their co-operation.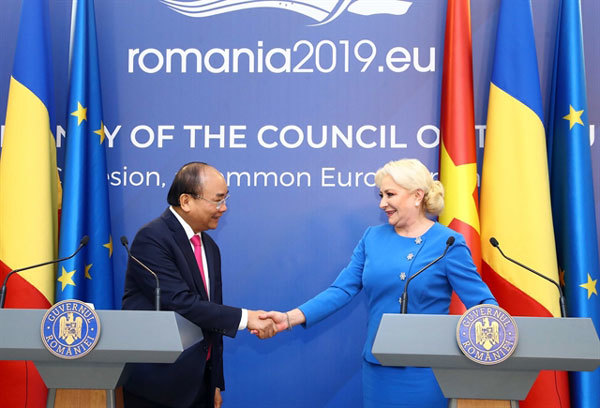 Vietnamese Prime Minister Nguyen Xuan Phuc and Romanian PM Viorica Dancila at a press conference in Bucharest during his official visit to the country in April last year. VNA/VNS Photo Thong Nhat
One of those agreements was on economic cooperation signed in 2009. As a result, bilateral trade has risen in recent years, reaching US$217 million in 2017 and over US$218 million in 2018. The figure was estimated at US$41.6 million in the first two months of 2019.
Vietnam's key exports to Romania include coffee, seafood, pepper, textiles and garments, leather shoes and computer components. Romania's main products shipped to Vietnam are chemicals, fertilisers, construction steel, plastic granules, oil and gas drilling equipment and wooden products. - VNS