Six diplomats received appointment decisions on September 20 to serve as ambassadors for the 2019-2022 tenure.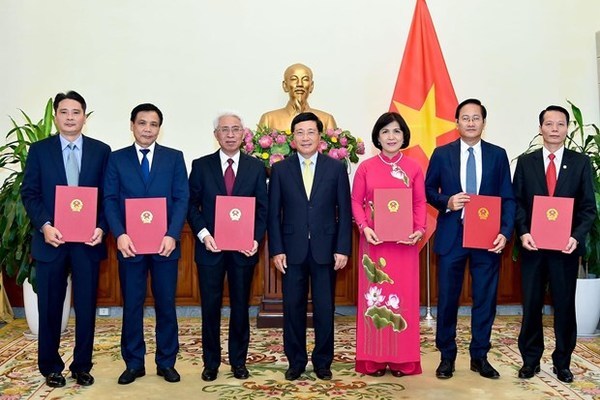 Deputy Prime Minister and Foreign Minister Pham Binh Minh (centre) and the six newly-appointed ambassadors pose for a photo
At a ceremony in Hanoi, on behalf of President Nguyen Phu Trong, Deputy Prime Minister and Foreign Minister Pham Binh Minh handed over the decisions.
Accordingly, Pham Sao Mai will be Vietnamese Ambassador to China and Micronesia; Le Thi Tuyet Mai Ambassador and Permanent Representative of Vietnam to the United Nations, the World Trade Organisation and other international organisations in Geneva (Switzerland); Le Hong Lam Ambassador to Norway; Pham Viet Chien Ambassador to Bangladesh; Nguyen Thanh Vinh Ambassador to Algeria, Mali, Senegal, Sahrawi, Niger and Gambia; and Luong Quoc Thinh Ambassador to Nigeria, Sierra Leone, Ghana, Togo, Cameroon, Chad, and Liberia.
Congratulating the ambassadors on their assignments, Deputy PM and Foreign Minister Minh expressed his hope that they will continue helping to enhance Vietnam's relations with the countries in all aspects, from politics, security, defence, economy, trade to culture.
He also asked them to help build the Vietnamese embassies into a trustworthy source of support for overseas Vietnamese people and businesses.
On behalf of the newly-appointed diplomats, Ambassador Pham Sao Mai affirmed that they will make utmost efforts to fulfill their duties, including reinforcing Vietnam's relations with the countries; persistently and resolutely ensuring the homeland's interests; proactively and actively building and maintaining a peaceful environment for Vietnam's integration into the world; and making use of all international resources to contribute to national development and promote the country's stature in the global arena.