The Vietnamese Foreign Ministry's State Commission for Overseas Vietnamese Affairs (SCOV) launched its portal at https://scov.gov.vn at an online ceremony held in Hanoi on October 23.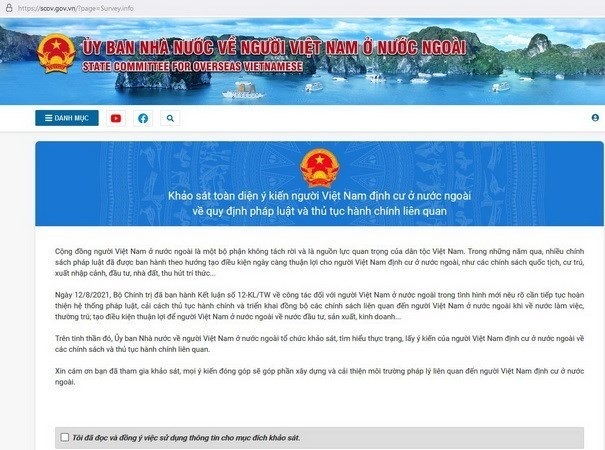 Screenshot of the portal (Photo: SCOV)
Chairing the event, Deputy Foreign Minister and SCOV Chairman Pham Quang Hieu affirmed that the OVs is an inseparable part of the Vietnamese nation and an important resource to contribute to national development. He also hailed their active role and described them as an important bridge for Vietnam's external relations with countries.
He said on August 12, 2021, the Politburo issued the Conclusion No.12-KL/TW on the OV affairs in the new situation. It outlined future tasks such as continuing to fine-tune laws and reform administrative procedures, creating favourable conditions for OVs to return home to do business, and renew the dissemination of external service information as well as the Party and State's policies and guidelines.
In order to encourage OVs to join in law and policymaking in Vietnam, the SCOV also took the occasion to launch a comprehensive survey collecting their opinions on relevant laws and administrative procedures at https://scov.gov.vn/?page=Survey.info, which will be also uploaded to the Foreign Ministry's portal and websites of the Vietnamese representative agencies abroad.
Hieu said the launch of the SCAV's portal and survey aims to realise Resolution adopted by the 13th National Party Congress and the Politburo's Conclusion No.12-KL/TW. Suggestions in the survey will be sent to authorities for consideration.
Speaking at the event, representatives of the Vietnamese communities abroad said they will partner with the SCOV and the Foreign Ministry to popularise the survey to contribute to its success./.
Source: VNA