NA Chairwoman Nguyen Thi Kim Ngan highlighted the development of the Vietnam-Italy strategic partnership while receiving Italian Minister of Foreign Affairs and International Cooperation Enzo Moavero Milanesi in Hanoi yesterday.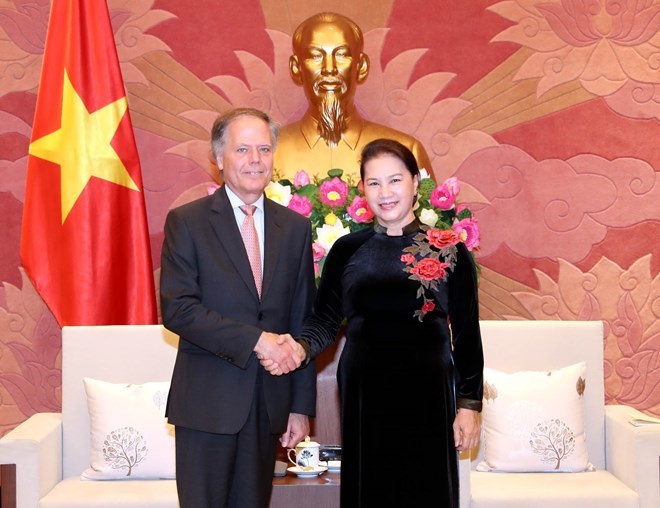 National Assembly Chairwoman Nguyen Thi Kim Ngan (R) receives Italian Minister of Foreign Affairs and International Cooperation Enzo Moavero Milanesi in Hanoi on May 7
Welcoming her guest's official visit, Chairwoman Ngan noted the strategic partnership has been developing in all aspects, including politics-diplomacy, trade-investment, culture-education, science-technology, and security-defence.
She said the potential for bilateral cooperation remains huge, especially in trade-investment, noting that Italy has strengths in industrial production, particularly mechanical engineering, high technology, infrastructure-transport development, and energy, which are also the fields Vietnam is looking for cooperation.
This June, Vietnam and Italy will co-organise the third high-level dialogue on Italy-ASEAN economic relations in Hanoi, gathering many big businesses from both sides. This will be a chance to enhance economic and trade ties between Italy and ASEAN countries, including Vietnam – the biggest trade partner of the European nation in ASEAN, she said.
Sharing the view on the fruitful relations in many areas, Minister Milanesi said as a founding member of the European Union, Italy has supported Vietnam during the negotiation on the EU-Vietnam Free Trade Agreement (EVFTA). It hopes the deal will be signed and ratified soon so as to promote trade and investment links between the EU, including Italy, and Vietnam.
He highly valued Vietnam's role and stature in the region, noting that despite geographical distance, the countries have been drawn closer thanks to scientific and technological development. They have also shared many common viewpoints on foreign, economic-trade, and security-defence policies.
Italy can strengthen cooperation with Vietnam in its strong fields of industrial production, mechanics and precise automation, Milanesi said.
He added most of companies in Italy are small and medium-sized firms, which is an advantage since they are highly dynamic and active. His country is ready to share its knowledge about the management of small and medium enterprises with Vietnam.
At the meeting, Chairwoman Ngan appreciated Italy's official development assistance for Vietnam, saying that its cooperation projects have been helping with her country's sustainable development efforts.
She also asked both sides to continue expanding cooperation to the fields they have strengths in and demand for.
On this occasion, the host also asked Minister Milanesi to deliver the invitation to visit Vietnam to the presidents of the Chamber of Deputies and the Senate of Italy.
Vietnam, Italy seek to foster collaboration
Deputy Prime Minister and Foreign Minister Pham Binh Minh held talks with Italian Minister of Foreign Affairs and International Cooperation Enzo Moavero Milanesi in Hanoi on May 7.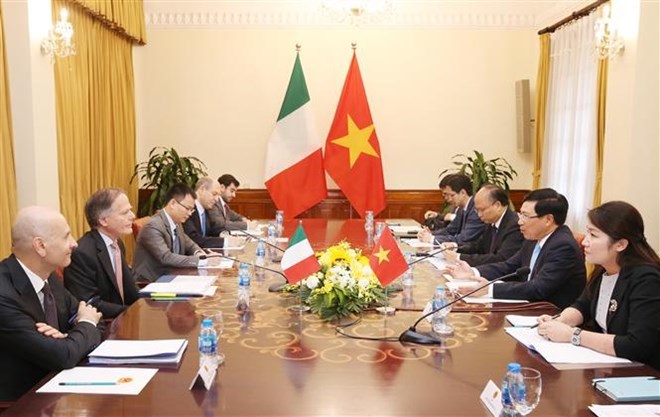 An overview of the talks
Minh spoke highly of the Italian official's visit which will pave the way for the further growth of the Vietnam-Italy strategic partnership.
Milanesi, who is on a Vietnam visit from May 6-8, expressed his impression of Vietnam's socio-economic and international integration achievements over the years, the country's rising role and position in ASEAN and the Asia-Pacific region as well as contributions to the international community.
The two sides showed their delight at positive progress in all aspects of the Vietnam-Italy strategic partnership so far, especially in 2018 when the two countries celebrated 45th anniversary of diplomatic relations and five years of strategic partnership.
They affirmed that the two countries will continue increasing meetings and exchanges of delegations at all level, especially the high level, while maintaining and effectively implementing mechanisms of deputy foreign ministerial-level strategic dialogue, deputy ministerial-level defence dialogue and Vietnam-Italy joint committee on economic cooperation.
Both sides agreed to sign an action plan to realise the Vietnam-Italy strategic partnership for 2019-2020 soon.
The Italian side affirmed that economy will continue to be the priority area in bilateral cooperation, pledging to strengthen trade and investment collaboration with Vietnam – a leading partner of Italy in ASEAN.
Minh welcomed Italian investors in areas of Italy's strength and Vietnam's demand such as mechanics-manufacturing, garment and textiles, footwear, construction materials, energy, food processing, and oil and gas exploration and exploitation.
He proposed that the Italian Government give more favourable conditions for Vietnamese goods to access distribution channels as well as supermarkets and retail systems in Italy.
The two sides highlighted the significance of the EU-Vietnam Free Trade Agreement (EVFTA), describing it as a motivation for the acceleration of bilateral trade and investment affiliation. They stressed the need to hasten the EU to sign and ratify the deal.
They also agreed to sketch out new directions for development cooperation to meet prioritised development goals of Vietnam and suit the two countries' strategic partnership, focusing on vocational training, environment, water management, flood warning, small and medium-sized enterprise support, and health care.
Minh suggested the Italian Ministry continue assisting Vietnam in relic preservation, increase scholarships and further facilitate Vietnamese students to study in Italy, while promoting research projects with Vietnam, making science-technology a priority field for cooperation in the coming time.
The two sides agreed to closely coordinate at international forums and organisations, especially within the framework of the UN, ASEM, EU-ASEAN, UNESCO, and affirmed to support Vietnam-EU ties as well as the relations between Italy and other ASEAN countries in the context that Vietnam will take the role of ASEAN Chair in 2020 and is running for a non-permanent membership of the United Nations Security Council for the 2020-2021 tenure.
Minh welcomed the initiative to organise the third high-level dialogue on ASEAN-Italy economic relations in Hanoi in June, saying that this will be an important chance for Italy to tighten economic-trade bonds with ASEAN countries.
They discussed the importance of maintaining peace, stability, security, safety and freedom of navigation and aviation in the East Sea, affirmed the respect for law and stressed the stance of supporting the settlement of disputes by peaceful measure, in line with international law, including the 1982 UN Convention on the Law of the Sea (UNCLOS). - VNA