Deputy Prime Minister Vu Duc Dam has ordered continued quarantine and close monitoring of those entering Vietnam from regions hit by coronavirus outbreak.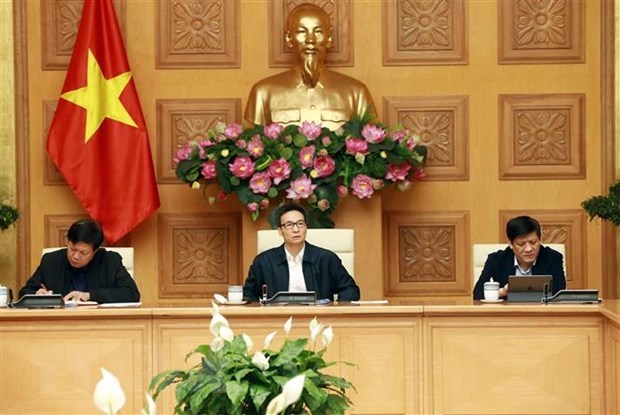 Deputy Prime Minister Vu Duc Dam (middle) 
Dam, who is also head of the national steering committee for the SARS-CoV-2-caused acute respiratory disease (COVID-19) prevention and control, made the request during a meeting of the committee in Hanoi on February 26.
Accordingly, Vietnamese citizens returning home from the Republic of Korea (RoK)'s Daegu city and North Gyeongsang province will be quarantined for 14 days.
Vietnamese passport holders from other Korean localities, except holders of official passports who are confirmed not to arrive in affected areas in the past 14 days, will be subject to additional interviews. Those that intentionally make false declarations about their past destinations will be seriously punished in line with the Law on Prevention and Control of Infectious Diseases.
Vietnam has temporarily banned entry of foreigners coming from or travelling through epidemic-hit areas in the past 14 days. Those that still want to enter Vietnam will be quarantined for 14 days in line with regulations.
The Ministry of Culture, Sports and Tourism must direct travel agencies and lodging facilities to provide materials about COVID-19 prevention for foreigners.
As of February 26, all 16 SARS-CoV-2-infected patients in Vietnam were discharged from hospitals. Thirty-one suspected cases are being quarantined while 5,675 others who entered from affected areas are under medical supervision.
Since February 13, no more new infection cases have been recorded in Vinh Phuc and the whole country.
According to the Health Ministry, there were over 81,000 infection cases in 33 countries and territories worldwide as of 3pm on February 26, more than 78,000 of them were in all 31 cities and provinces of China.
The world recorded up to 2,764 deaths, including 2,715 in China, 12 in the RoK, six in Japan, one in the Philippines, two in Hong Kong (China), 11 in Italy, one in France, one in Taiwan (China) and 15 in Iran./.

Twenty-two foreigners, including 20 Korean and two Thai tourists, have been kept under quarantine at Da Nang's Lung Disease Hospital since February 24.

A Korean man, who died near Bac Ninh province's General Hospital on February 25, tested negative for the novel coronavirus (SARS-CoV-2).