Vietnam will be a leg of Secretary Esper's tour to South Korea, Thailand, and the Philippines.
US Secretary of Defense Dr. Mark T. Esper will visit Vietnam in the coming days, according to the US Department of Defense.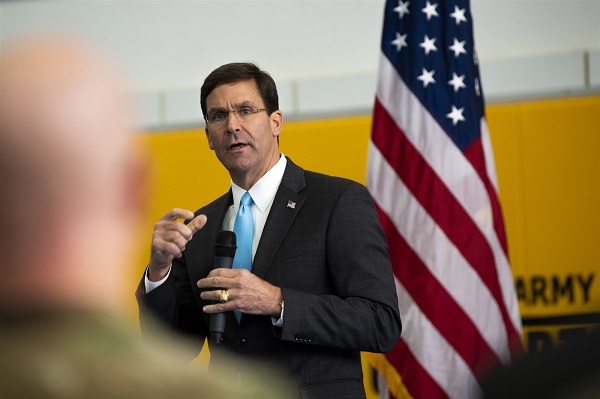 US Secretary of Defense Dr. Mark T. Esper. Photo: Africom.mil
Secretary Esper will meet with his Vietnamese counterpart and other key leaders to discuss the regional security environment and ways to enhance the growing defense relationship, the US Department of Defense said in an announcement.
Vietnam is a stop of Secretary Esper's tour to South Korea, Thailand, and the Philippines, which will start on November 13. The department did not specify Secretary Esper's agenda in Vietnam.
Last month, Spokeswoman Le Thi Thu Hang of the Vietnamese Ministry of Foreign Affairs said that Mark Esper will visit Vietnam at a "suitable time" at the invitation of Vietnamese Defense Minister Ngo Xuan Lich.
"The defense relations between Vietnam and the US are thriving within the comprehensive partnership," Hang said in a statement.
Last month, Randall G. Schriver, Assistant Secretary of Defense for Asian and Pacific Security Affairs visited Vietnam.
The latest visit to Vietnam paid by a US defense minister took place in October 2018 by James Mattis who came to the country twice last year. His visits to Vietnam were called "rare" and "unusual" by international media but easy to be explained in the context that the two countries strengthen ties amid growing tensions in the East Sea between Vietnam and China.
In South Korea, Secretary Esper will attend the 51st US – ROK Security Consultative Meeting where the two sides will discuss the alliance and enhance their bilateral defense cooperation to address issues of mutual importance to the security and stability of the Korean Peninsula and the Indo-Pacific region.
Secretary Esper will visit Thailand where he will participate in the ASEAN Defense Ministers' Meeting Plus (ADMM-Plus) which is the most effective platform for practical cooperation among the participating countries' defense establishments and the premier venue for senior leaders to discuss regional defense issues.
In the Philippines, Secretary Esper will meet with his Philippine counterpart to advance the alliance as well as strengthen regional security cooperation to uphold international rules and norms. Hanoitimes
Linh Pham

Vietnam should make greater efforts to get stronger support from the international community in the East Sea issues and hold more activities similar to East Sea International Conferences, a leading foreign expert has suggested.

The Ministry of Finance inked a cooperation framework to strengthen infrastructure finance with the US Department of the Treasury in Hanoi on November 6.