Deputy Minister of Foreign Affairs Nguyen Quoc Dung, also head of Vietnam's ASEAN Senior Officials' Meeting (SOM), speaks to Vietnam News Agency about the country's ASEAN chairmanship role in 2020.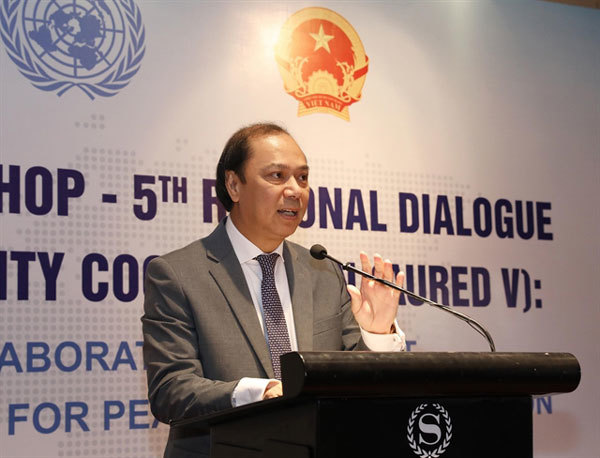 Deputy Minister of Foreign Affairs Nguyen Quoc Dung. 
2020 is the second time Vietnam will take ASEAN chairmanship. The first time was in 2010. How do you view the regional context and Vietnam's position this time around?
There are a lot of differences when Vietnam takes over ASEAN chairmanship next year compared to 10 years ago. The world's situation has changed rapidly and strong competition among countries has multi-dimensional impacts on ASEAN, posing many challenges ASEAN has to adapt to. However, I think they also bring opportunities for ASEAN, such as from the Fourth Industrial Revolution or Industry 4.0.
In 2020, Vietnam will also be a non-permanent member of the UN Security Council for the 2020-21 period. How will this role contribute to the ASEAN Community?
Vietnam taking the two roles at the same time means there will be more work and the work will be more complex but there will be also advantages because these two roles will complement each other. Countries within the ASEAN Community are also members of the UN so they also carry out UN tasks and implement UN resolutions. As ASEAN Chairman, Vietnam's voice at the UN Security Council will be stronger. Vice versa, UN programmes and plans will be implemented by ASEAN better and ASEAN plans will be made in sync with UN goals.
As ASEAN Chairman, how will Vietnam contribute to the ASEAN Community to promote multilateral forums and strengthen the role of ASEAN?
At present, multilateralisation is facing many challenges. However, Vietnam and countries within the ASEAN Community are trying to keep multilateralisation, free trade and the multilateral commercial system in the region.
The theme of ASEAN 2020 'Cohesive and Responsive' shows our wish to have an ASEAN standing firm to the impacts of the regional and global situations. To fulfil that goal, ASEAN member countries have to unite and consolidate, so the role of the ASEAN chairman is very important.
Vietnam wants ASEAN to unite in all fields, including institutions, economy and people, from which ASEAN can reach a common view on global and regional issues.
How has Vietnam prepared for chairmanship and what are Vietnam's priorities for this role?
During the ASEAN Chairmanship term 2020, Vietnam will promote five priorities.
Firstly, promoting the role and contribution of ASEAN to maintaining peace, security and stability in the region on the basis of strengthening the bloc's unity; enhancing the spirit of connecting, assisting and supporting each other among member countries; increasing collaboration capacity of ASEAN's common viewpoint in handling regional and international issues; promoting the implementation of common rules and standards of conduct in relations among countries; effectively adapting to challenges threatening peace, security and stability in the region.
Secondly, promoting regional connections and enhancing the region's ability to adapt to and take advantage of the Fourth Industrial Revolution, deepening economic ties and connections within the bloc and with other partners; spurring sustainable and inclusive growth in economy, finance, and society; continuing to narrow development gaps; building high-quality human resources; and increasing social services for vulnerable groups.
Thirdly, the country will raise public awareness about ASEAN's identity by creating common values of ASEAN and widely popularising them.
Fourthly, the nation will bolster partnerships for peace and sustainable development with all countries across the globe and promote ASEAN's role in and contributions to the international community.
Lastly, it will improve the adaptation and efficiency of ASEAN and its institutional reform.
There is a lot of work ahead for the ASEAN chairmanship year 2020 but Vietnam has made early preparations in all steps. — VNS

Vietnam wants ASEAN to unite in all aspects, from institutions to economy and human resources, which is very important for ASEAN to uphold its central role, said Deputy Foreign Minister and Head of SOM ASEAN Vietnam Nguyen Quoc Dung.

Social affairs will be an important issue of the Association of Southeast Asian Nations (ASEAN) as well as its socio-cultural community in 2020 when Vietnam serves as Chair of the ASEAN, a Vietnamese official has said.

A conference was held in Hanoi yesterday by the Ministry of Labour, Invalids and Social Affairs to prepare for Vietnam's ASEAN Chair Year 2020.