Ambassador Tran Duc Binh, head of Vietnam's permanent mission to ASEAN, has attended the 9th Meeting of the Joint Council of the ASEAN – China Centre (ACC) in Xian, China.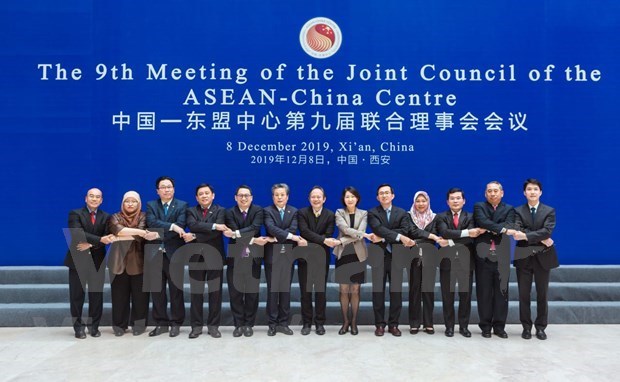 Participants at the meeting
The annual meeting reviewed ACC's activities in 2019 and approved a plan for the centre's operations in 2020.
Accordingly, the centre successfully implemented 23 projects to promote trade, investment, tourism, and education cooperation, and culture and people-to-people exchange between ASEAN member nations and China.
The 2019 ASEAN-China Intelligent Industry Conference, and a programme to promote Chinese firms' investment in Vietnam, were held in HCM City in July 2019.
Participants said the ACC's projects should focus on supporting the realisation of decisions by the ASEAN-China Summit, including the ASEAN - China Strategic Partnership Vision 2030, the ASEAN-China Leaders' Statement on Smart City Cooperation, and the ASEAN Plus Three Leaders' Statement on Connecting the Connectivities Initiative.
At the event, Ambassador Binh mentioned Vietnam's priorities in 2020 when the country undertakes its role as ASEAN Chair, affirming that Vietnam will support and closely work with China, other ASEAN member states, and the ACC's Secretariat to effectively implement the centre's 2020 operation plan.
Initiated in Beijing in 2009, the ACC aims to provide information and organise activities in order to foster the ASEAN-China cooperation in terms of trade, investment, tourism, education, culture, and information and communication./. VNA