A Vietnam-Cambodia border friendship cultural house was inaugurated in Tinh Bien district, the southwestern border province of An Giang, on August 28.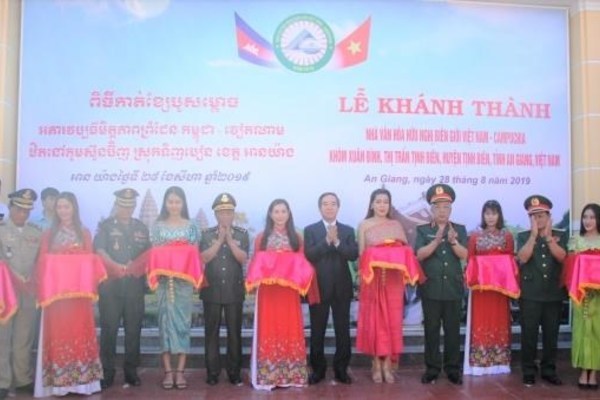 At the inauguration ceremony (Source: bienphong.com.vn)
The inauguration ceremony took place within the Vietnam-Cambodia border friendship exchange programme.
The house demonstrates cooperation between foreign ministries and border residents of the two countries.
Apart from high-ranking officials, the ceremony saw the participation of residents in Xuan Binh hamlet, Tinh Bien town, and Ta Rung hamlet, Phnomdel commune, Kirivong district, Cambodia's Takeo province.
Since 2015, local authorities, armed forces and border residents of Vietnam and Cambodia have set up twinning relations, contributing to enhancing the neighborliness, friendship and mutual support between the two peoples.
On this occasion, Vietnam and Cambodia held a conference to review cooperation between their border residents, and put forth measures to deepen the collaboration.
Five out of the 17 residential areas in An Giang that shares border with Takeo and Kandal provinces of Cambodia have established twining relations with Cambodian localities.
The Vietnamese and Cambodian localities have organized exchange camps for their youths on a rotary basis, along with trade fairs.
An Giang has also helped the Cambodian side with farming methods and scholarships for Cambodian students, contributing to spurring economic development and improving income and living standards for border residents.
As part of the border friendship exchange programme, Vietnam and Cambodia held a joint border patrol and conducted an exercise on drug crime combat at the Xuan To Industrial Park in Tinh Bien district. -VNA