Vietnam and Cambodia will continue their close coordination to effectively implement legal documents regarding the land border to ensure a shared borderline of friendship, peace, stability, cooperation and sustainable development.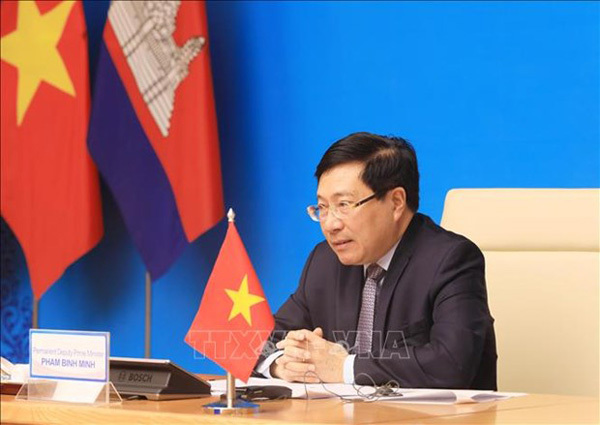 Vietnamese Permanent Deputy Prime Minister Pham Binh Minh.
The consensus was reached at the 11th meeting on cooperation and development between border provinces of Vietnam and Cambodia on October 28.
Vietnamese Permanent Deputy Prime Minister Pham Binh Minh, and Cambodian Deputy Prime Minister and Minister of Interior Sar Kheng co-chaired the event that was held in the form of videoconference.
The two sides shared the view that despite the impacts of the COVID-19 pandemic, Vietnam and Cambodia had maintained the development momentum of bilateral ties and had coordinated and supported each other fighting the pandemic in a timely and effective manner.
Remarkable achievements had been recorded in cooperation between central agencies and local authorities of Vietnamese and Cambodian border provinces in the past, particularly in land border demarcation and marker planting, border and border gate management, and protecting security and order in border areas, they said.
They also highlighted collaboration between organisations and people-to-people exchanges between the border localities.
The two sides agreed to further raise the efficiency of coordination in responding to COVID-19, and were resolved to maintain the bilateral trade growth.
The 12th meeting is scheduled to be held in Vietnam next year.
Source: Vietnam News

An agreement on border defence cooperation was signed between the Vietnamese Ministry of National Defence's Border Guard High Command and the Army Command of the Royal Cambodian Armed Forces in Hanoi on February 3.

Vietnamese Deputy Prime Minister and Minister of Foreign Affairs Pham Binh Minh and Cambodian Deputy PM and Minister of Foreign Affairs and International Cooperation Prak Sokhonn on December 22 co-chaired the 18th meeting