Vietnam and Cambodia have signed the Minutes of Agreement on cooperative contents and programs in 28 sectors.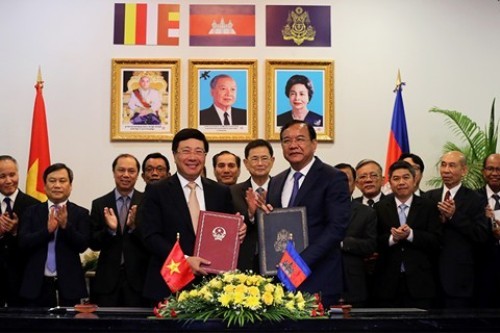 Deputy PM, FM Pham Binh Minh and Cambodian Deputy PM, Minister of Foreign Affairs and International Cooperation Prak Sokhonn sign the Minutes of Agreement on cooperative contents and programs in 28 sectors, Phnom Penh, Cambodia, August 21, 2019 - Photo: VGP/Hai Minh
Deputy PM, FM Pham Binh Minh and Cambodian Deputy PM, Minister of Foreign Affairs and International Cooperation Prak Sokhonn on August 21 co-chaired the 17th meeting of the Viet Nam-Cambodia Joint Commission on economic, cultural, scientific and technological cooperation in Phnom Penh, Cambodia.
At the meeting, both leaders agreed that Viet Nam-Cambodia relationship have been promoted and gained a number of achievements since the 16thmeeting of the Joint Committee.
Besides high-ranking meetings and visits and bilateral cooperative mechanisms, the two sides have launched meaning activities to celebrate the 40th anniversary of its victory against the Pol Pot genocidal regime (January 7, 1979).
The occasion, Deputy PM Prak Sokhonn expressed thanks to Vietnamese people and army for helping Cambodia from the genocidal regime and during the national establishment and development process.
The two sides exchanged and consented specific measures to address obstacles and improve the effectiveness of cooperation in all fields.
They were unanimous in facilitating economic and trade ties, consolidating and boosting cooperation in security-defense, developing transport infrastructure, industry-mine-energy, agricultural-aquatic-forestry, information and telecommunications, health, labor and social issues, culture-sports-tourism and environment.
The Cambodian sides highly appraised Viet Nam's willingness to assist training in technology and science and raising its electricity sales capacity by 50MW to help Cambodia reduce electricity shortage in dry season.
The two Deputy PMs agreed to speed up procedures to soon complete and hand over the border market in Tbong Khmun Province, Cambodia and a high school in Cambodian province of Mondulkiri in 2019, sign an aid agreement to realize projects on building working houses of the Secretariat and Committees of the Cambodian National Assembly and some community-based volunteering rehabilitation laboratories for drug addicts in Cambodia's Preah Sihanouk Province.
Both sides assented to launch measures to make economic, trade and investment cooperation become a spotlight in the bilateral relationship as well as create favorable conditions for border trade through investment, upgrading border infrastructure, enhancing road, waterway and tourism connectivity.
They consented to expand cooperation in new areas amid the Industry 4.0, especially related to support for small and medium-sized enterprises, micro-enterprises, national digital transformation cooperation, cyber safety and security and nuclear medicine.
The host and the guest agreed to accelerate close coordination, share information and consider establishing suitable guidelines and policies to facilitate their businesses, especially small and medium-sized enterprises to launch effective and long-term investment in the two nations.
They expressed their delight on active cooperation and determinations between their functional agencies in signing two legal documents on the completion of the 84% of the border demarcation and marker planting, paving the way for building a border line of peace, friendship, cooperation and development.
They were concerned about the lowest water level of the Mekong River over the recent time, stressing the importance of close coordination with other nations in the Greater Mekong Subregion to enhance sustainable and effective use of the water resource in the Mekong River, especially promoting information and data sharing, full evaluation and consultancy of hydroelectric plants on the mainstreams of the Mekong River.
The two sides were unanimous in cooperating with Laos in promoting cooperation between the three nations in the Development Triangle Area, effectively implementing the master plan on economic connectivity between the three nations and strengthening the attraction of financial support from development partners and international financial organizations to ensure sustainable development.
They affirmed to enhance closely ties in 2020 when Viet Nam takes over the ASEAN Chairmanship and the non-permanent member of the United Nations Security Council in 2020-2021 tenure and Cambodia will host the 13th Asia-Europe Summit. VGP