Vice President Dang Thi Ngoc Thinh has suggested that Vietnam and the Democratic People's Republic of Korea (DPRK) should tighten and consolidate judicial cooperation in the time ahead.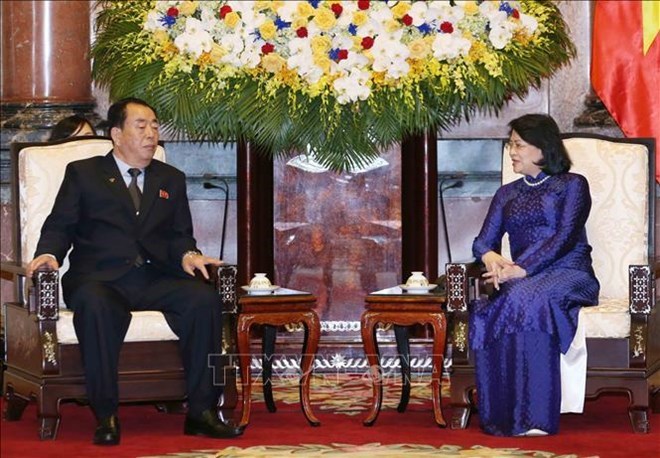 Vice President Dang Thi Ngoc Thinh (right) and President of the DPRK's Central Court Kang Yun Sok
Thinh made the suggestion while receiving President of the DPRK's Central Court Kang Yun Sok in Hanoi on May 10.
The two sides should exchange initiatives and experience in judicial reform, court system improvement, and legal procedure modernisation, she said.
Vietnam and the DPRK signed an agreement on judicial assistance, Thinh said, adding that Vietnam's Supreme People's Procuracy and the DPRK Central Procurator's Office also inked a cooperation pact.
The two countries reached many important agreements in the fields of culture, science-technology, health care, trade, navigation, and civil aviation transportation, she said.
The Vice President stressed that the DPRK was one of the first countries to set up diplomatic ties with Vietnam in 1950, only after China and the former Soviet Union. Over the years, the bilateral friendship has been consolidated through high-level visits by leaders of the two countries, she added.
Kang echoed Thinh's views in saying that his visit aims to enhance the fruitful friendship between the two countries.
Lauding Vietnam's socio-economic-cultural achievements, he expressed his hope that apart from traditional cooperation areas, the two countries will share experience in judicial affairs, significantly contributing to the development of the judicial sector in each country.–VNA