Ambassador Pham Trung Kien, permanent representative of Vietnam to the International Atomic Energy Agency (IAEA) on November 24 attended a regular meeting of the IAEA Board of Governors (IAEA BoG) in Vienna, Austria.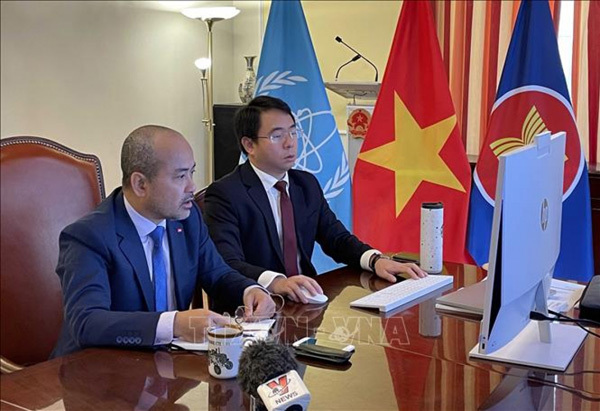 Ambassador Pham Trung Kien (first from left) attends a regular meeting of the IAEA Board of Governors in Vienna, Austria, on Nov. 24. (Photo: VNA)
Addressing the virtually held meeting, Ambassador Kien highly appreciated the recent cooperation results between Vietnam and the IAEA in the development and application of nuclear technology for peaceful purposes.
He said the IAEA has supported Vietnam in successfully implementing cooperation projects within the framework of the technical cooperation programme for 2020-2021 as well as other nuclear technology transfer activities.
The Ambassador thanked the IAEA for providing Vietnam with equipment and biological products and organizing training courses on nuclear technology application to perform RT-PCR tests, helping the country diagnose and detect the SARS-CoV-2 virus early, contributing to slow the spread of the COVID-19 outbreak.
He appreciated the IAEA developing five cooperation projects with Vietnam within the technical cooperation framework for 2022-2023, focusing on disease response, cancer treatment, sustainable agriculture development, safety & security promotion, and response to nuclear incidents.
Vietnam commits to actively coordinate with the IAEA in implementing these projects, Ambassador Kien assured.
The IAEA Board of Governors consists of 35 members, of which 22 are elected by the IAEA General Assembly for a two-year term. In September 2021, Vietnam was unanimously elected by IAEA member countries to the IAEA BoG for the 2021-2023 term.
Source: VOV

National Assembly Chairman Vuong Dinh Hue has suggested that the International Atomic Energy Agency support the nation in technology transfer and capacity building for the use of nuclear technology in health care and COVID-19 prevention and control.

Vice Spokesman of the Ministry of Foreign Affairs Doan Khac Viet on April 29 affirmed Vietnam's support for the right to develop and use atomic energy for peaceful purposes.