Vietnam maintained positive growth in most economic sectors in the January-August period despite global market volatility, including escalating trade tensions among major economies, said PM Nguyen Xuan Phuc.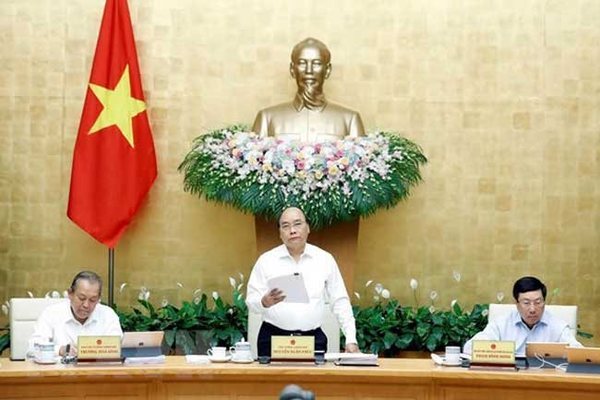 Prime Minister Nguyen Xuan Phuc (standing) speaks at the regular Cabinet meeting today, September 4 - PHOTO: VNA
At a regular Cabinet meeting today, September 4, to review the country's socioeconomic performance in August and in the eight-month period, Phuc noted that manufacturing and agriculture also recorded growth despite unfavorable conditions. The macroeconomy remained stable and inflation was curbed at 2.5%, the lowest level recorded in the last three years, the Government leader was cited by news site Vietnamplus as saying.
In addition, the exchange rate was stable, while many countries' currencies depreciated against the U.S. dollar.
The country also reported a significant increase in exports, at 7.3%, reaching a value of US$170 billion. Exports to China plunged but Vietnam gained high export revenues from European markets.
Of the total, exports by domestic enterprises increased 13.9%, accounting for 30% of the country's total export revenue for the first time.
The trade surplus reached a new record of more than US$3.4 billion in the eight months, PM Phuc added.
According to a report by the Ministry of Planning and Investment, between January and August, some US$12 billion of foreign direct investment was disbursed, up 6.3% year-on-year.
The eight-month period saw nearly 90,500 new businesses established, with total registered capital of over VND1.15 quadrillion (US$49.6 billion), a rise of 3.5% in the number of enterprises and 32% in capital. Meanwhile, the number of firms that suspended operations dropped 7% and those resuming operations increased 21.8%.
The index of industrial production expanded 9.5%, lower than that in the same period last year but still higher than the index in the January-August period in 2016 and 2017.
Total retail sales of goods and services increased 11.5% to reach VND3.2 quadrillion.
In the eight-month period, the country welcomed 11.3 million international tourists, up 8.7% against the same period last year.
The prime minister also referenced local and international financial organizations' forecasts of Vietnam's economic growth this year, which range from 6.7% to 6.96%.
He called for stronger efforts from ministries, agencies and localities to reach an economic growth rate of 6.7%-6.8%.
PM Phuc also highlighted the shortcomings in the management and operations of the Government and the relevant agencies, particularly the slow disbursement of public investment funds, landslides in the Mekong Delta region and challenges affecting the agriculture sector and traffic infrastructure projects. SGT