The number of expats in Vietnam rose from 72,172 in 2013 to 88,845 in 2018, the majority of whom are holding key positions, including manager, CEO and technician.
The Committee on Foreign Affairs under the National Assembly has requested the government to build a law on expats in Vietnam, including regulations to manage foreigners working at foreign contractors in the country, stated the committee in a report.
 Data: National Assembly. Chart: Ngoc Thuy.
The committee also suggested a revision of regulation on expats in the Labor Code, including the required amount of capital contribution in local enterprise so that foreigners are waived of working permit; regulations stipulating a working permit is required for issuance of professional certificate or certificate in certain fields such as treatment, education, construction, tourism, and services.
The report showed that the number of expats in Vietnam rose from 72,172 in 2013 to 88,845 in 2018, the majority of whom are holding key positions, including manager, CEO and technician.
They have provided much needed human capital of high quality and at international standards for Vietnam's labor market, stated the report.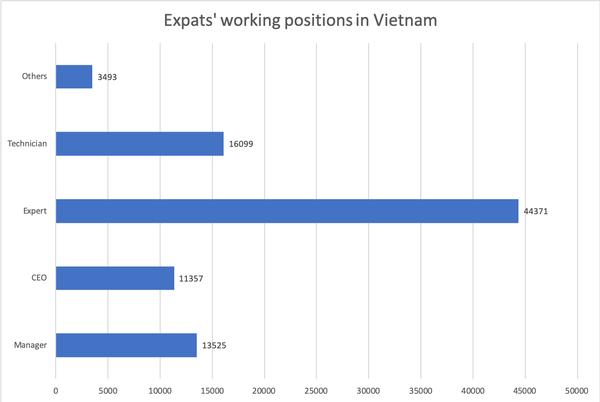 Data: National Assembly. Chart: Ngoc Thuy.
The committee said the employment of foreigners at enterprises and organizations in Vietnam is in compliance with local regulation on foreigners working in Vietnam.
However, one of the shortcomings of expat management regulation in Vietnam is that the current law does not permit a change of immigration purpose.
As of present, expats working in enterprises are issued a "DN"-typed visa with 3 month-validity and have no working permit. During these three months, enterprises are responsible for finalizing documents to apply for a working permit and "LD"-typed visa.
"This lead to a situation where expats work for a short term in Vietnam but have no working permit, leading do difficulties in management and issuing working permit for foreigners," stated the report.
Notably, the committee pointed out flaws in laws regarding bidding processes that lead to a growing number of foreigners working at positions that locals are capable of.
Additionally, the committee expressed concern over inefficient state management in certain provinces and cities in identifying illegal foreigners under their jurisdiction.
"Many foreigners came to Vietnam as tourists but stay on to work," stated the report.
Foreigners' illegal businesses and investments
Another issue related to foreigners is the existence of illegal investments and businesses run by foreigners in Vietnam.
From 2016 to October 2019, Vietnam issued investment certificates for 11,595 foreign invested projects with registered capital of US$69.29 billion.
During this period, the disbursed amount has been increasing steadily from US$14.5 billion in 2015 to a record high of US$19.1 billion in 2018.
The committee noted investment activities under the form of capital contribution and stake acquisition are increasing in size, while the Investment Law does not require the investors to register for investment.
This causes difficulties for state management in supervising capital contribution activities at enterprises, leading to growing cases of illegal investments, stated the committee.
Moreover, law suits and disputes between foreign investors and local authorities are causing negative impacts on Vietnam's business environment.
As of 2018, there were six cases of investors filling law suits against the Vietnamese government.
The committee added tax obligation of foreign enterprises are not up to expectation, mainly due to cases in which foreign companies report losses but actually practice transfer pricing, while the Law on Tax Administration does not address the issue of transfer pricing, cross-border transaction and measures to prevent losses in tax collection. Hanoitimes
Ngoc Thuy

An exhibition and exchange of arts have been held at Da Nang's Fine Arts Museum, displaying a collection of 55 paintings from foreign artists living in the central city and local painters.

Vietnam ranks 10th among best destinations for expatriate workers to live and work, according to HSBC's Expat 2019 Global Report released recently.  

Vietnam has recently been listed among the world's 10 best countries for expatriates in a recent survey by the bank HSBC.