Vietnam's Prime Minister Nguyen Xuan Phuc will make official visits to Russia, Norway, and Sweden on May 20-28 with an aim to boost strategic ties and speed up the ratification of the EU-Vietnam Free Trade Agreement.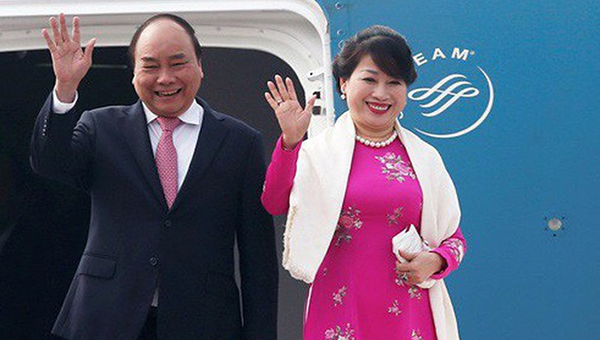 PM Nguyen Xuan Phuc and his spouse. 

The tour will begin with Russia on May 20-23 at the invitation of Russian Prime Minister Dmitry Medvedev, then to Norway on May 24-26 at the invitation of Norwegian Prime Minister Erna Solberg, and to Swedish welcomed by Prime Minister Stefan Löfven on May 26-28, according to local media.
Hanoi – Moscow
Vietnam and Russia established diplomatic relations in 1950 and upgraded the ties to strategic partnership in 2001 and to comprehensive strategic partnership in 2012.
The bilaterial relationship has been enhanced with exchange visits at all levels.
The two countries have strong economic ties with the two-way trade growing rapidly after the Vietnam-Eurasian Economic Union Free Trade Agreement (VN-EAEU FTA) took effect in October 2016, and hit US$5.3 billion in 2017.
Hanoi – Oslo
Vietnam has maintained a good relationship with Norway as it considers the Northern European country among its important partners in the region.
The multisectoral ties covering economics, trade, security and defense, education, tourism, and culture have been reinforced in recent years.
Hanoi – Stockholm
Vietnam considers Sweden a supporter and donor and partner for sustainable growth.
Indeed, the 50-year relations have marked uncountable support that Sweden has done for Vietnam regardless of valuable help in the war and hard time since 1969.
Being one of the first European countries establishing ties with Vietnam, Sweden has granted more than US$46 billion to Vietnam so far.
For Sweden, Vietnam, meanwhile, is believed to be one of the most important partners in ASEAN. Hanoitimes
Linh Pham