Cambodian PM concludes Vietnam visit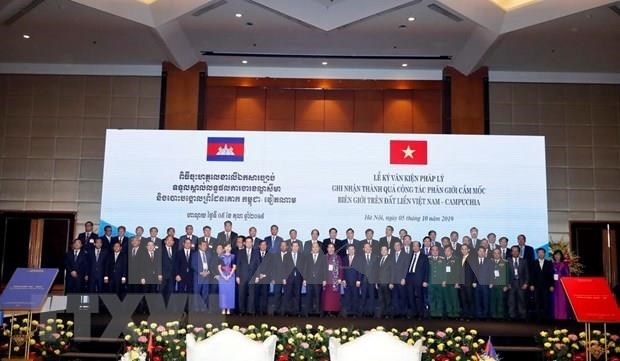 PM Nguyen Xuan Phuc and PM Hun Sen in a photo with delegates at the conference reviewing border demarcation work.
Cambodian Prime Minister Samdech Techo Hun Sen concluded his two-day official visit to Vietnam in the afternoon of October 5.
During the visit, Hun Sen held talks with his Vietnamese counterpart Nguyen Xuan Phuc, paid a courtesy visit to Party General Secretary and President Nguyen Phu Trong and met with National Assembly Chairwoman Nguyen Thi Kim Ngan.
Leaders of the two countries discussed in depth and reached important common perceptions on Vietnam-Cambodia relations and bilateral coordination at regional and international forums.
The two sides re-affirmed their resolve to preserve and constantly nurture and develop the two countries' relations to new heights on the basis of political trust, equality, mutual benefits,and mutual respect and support under the motto "good neighbourliness, traditional friendship, comprehensive and long-term sustainable cooperation."

The two sides agreed to fully tap potential to make economic cooperation a pillar in bilateral ties, and maintain the growth momentum through carrying out trade promotion measures, supporting firms of both sides to attend each other's trade and investment promotion activities, fairs and exhibitions, while expanding partnerships in potential fields such as information and communication technology, aviation, tourism, finance-banking, hi-tech agriculture, aquaculture, and health care.

The two sides agreed to enhance coordination, information sharing and mutual support at regional and international forums, especially the ASEAN and related mechanisms, the UN, the WTO, ASEM, and affirmed that they will closely coordinate in 2020 when Vietnam is Chair of ASEAN and Cambodia hosts the ASEM 13.

The two sides reiterated ASEAN's positions on the East Sea in recent joint statements, especially the Joint Communique of the 52nd ASEAN Ministerial Meeting (AMM52). Both sides expressed the view that the current tension must soon be resolved peacefully in accordance with international law, including the 1982 United Nations Convention on the Law of the Sea (UNCLOS).

PM Hun Sen and PM Nguyen Xuan Phuc attended and delivered speeches at the Vietnam-Cambodia trade and investment promotion conference, and witnessed the signing of many cooperation documents.
The two PMs co-chaired the conference reviewing the Vietnam - Cambodia border demarcation works since 2006 and the signing ceremony of the Supplementary Treaty to the 1985 Treaty on the Delimitation of the National Boundary and the 2005 Supplementary Treaty, and the Protocol on the Demarcation and Marker Planting of the Land Boundary between Vietnam and Cambodia./.
Vietnam-Romania joint committee holds first ministerial-level session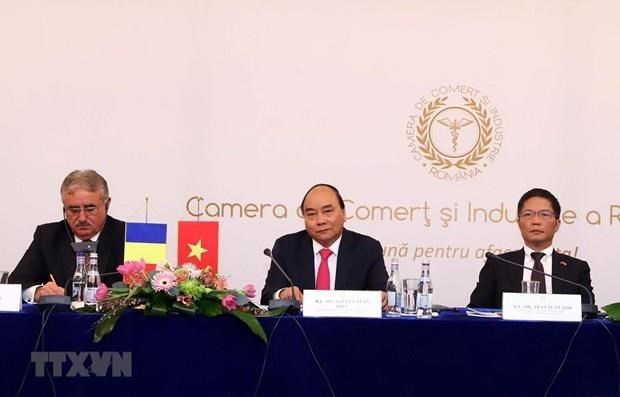 Prime Minister Nguyen Xuan Phuc (middle) chairs the Vietnam - Romania business forum in April
The Vietnam – Romania Joint Committee on Economic Cooperation convened its 16th session in Bucharest, Romania on October 4 under the chair of Vietnamese Minister of Industry and Trade Nguyen Tuan Anh and Romanian Minister for Business Environment, Commerce and Entrepreneurship Stefani Radu Oprea.
This is the first ministerial-level meeting of the committee.
Speaking at the event, Minister Anh said the Vietnam visit by Romanian Prime Minister Dacian Ciolos in July 2016 and Romania visit by PM Nguyen Xuan Phuc in April 2019 reflect the resolve of the two countries' leaders' to push forward the substantial and effective development of bilateral ties.
He thanked the government of Romania, which held the presidency of the European Union in the first six months of this year, and Minister Oprea in particular for supporting the signing of the EU – Vietnam Free Trade Agreement (EVFTA) and the EU – Vietnam Investment Protection Agreement (EVIPA).
The meeting looked back at the economic-trade relations between the two countries since the committee's previous meeting in June 2016.
According to the General Department of Vietnam Customs, two-way trade between Vietnam and Romania reached 218.3 million USD last year, up 6.08 percent from 2017. Vietnam's exports to Romania rose annually by 22.7 percent to 146.8 million USD and the European country's exports to Vietnam hit 71.5 million USD, down 17 percent.
In the first eight months of this year, the two-way trade increased by 21.2 percent year-on-year to 174.6 million USD. Of the figure, 133.98 million USD was the value of Vietnam's exports to Romania, up 39.6 percent and the remaining was Vietnam's imports, down 15.5 percent.
As of August 20, 2019, Romania invested in two projects worth 1.2 million USD in the manufacturing and processing industry in Vietnam, ranking 92nd out of 132 countries and territories investing in the country. Meanwhile, Vietnam poured 600,000 USD in a project in Romania.
A number of cooperation agreements on energy, industry, agriculture and labour have also been signed over the past years, but specific plans are needed for their implementation.
The Romanian side expressed interest in receiving Vietnamese workers specialised in mechanical engineering, welding, construction, shipbuilding, hospitality and high-tech.
Both sides highlighted the need to further trade promotion activities, in order to boost Vietnam's exports of apparel, footwear, farm produce, seafood and electronics as well as Romania's shipments of meat products, honey, wheat, corn and wine, among others.
Minister Oprea accepted an invitation from the Vietnamese side to lead a Romanian business delegation to the Vietnam Expo 2020 as the guest of honour.
The two sides agreed to establish a joint working group to research and propose solution to develop bilateral economic and trade ties.
The Vietnamese side pledged to support Romanian investment in oil and gas exploitation, petrochemicals refining, shipbuilding, power transmission and mechanical engineering, and the sharing of experience among economic policymakers during economic transformation, administrative reform and public finance, and business restructuring.
On the occasion, a sci-tech cooperation programme between the Vietnamese Ministry of Science and Technology and the Romanian Ministry of Research and Innovation was also signed.
In the morning the same day, the two ministers attended the Vietnam – Romania business forum, and witnessed the signing of two cooperation agreements between Vietnam's Foreign Investment Agency and Romania's Chamber of Commerce and Industry, and between the Hoa Binh Construction Group and the BTD Construction & Ambient Romania on developing construction projects in Romania and the southeast of Europe./.
NA Chairwoman meets with Can Tho voters
National Assembly Chairwoman Nguyen Thi Kim Ngan in a meeting with voters in the districts of Ninh Kieu and Cai Rang of the Mekong Delta city of Can Tho on October 4
National Assembly (NA) Chairwoman Nguyen Thi Kim Ngan met with voters in the districts of Ninh Kieu and Cai Rang of the Mekong Delta city of Can Tho on October 4.
At the meetings, Chairwoman Ngan briefed constituents on the country's socio-economic growth and external affairs in the first nine months of this year, as well as development trends of the economy.
Responding to voters' question on 12 loss-making projects of the Ministry of Industry and Trade, she said the Government had been asked to report and update progress on this matter to the NA.
Regarding voters' opinions on the supervision of public investment disbursement and transfer pricing of foreign firms, the legislation leader said that slow disbursement of public investment might be included at the question-and-answer session of the NA's eighth sitting.
She said that the NA and Government are working to prevent transfer pricing in foreign businesses, adding that the NA has paid special attention to this issue./.
Japan's Gunma Governor commits support to Vietnamese people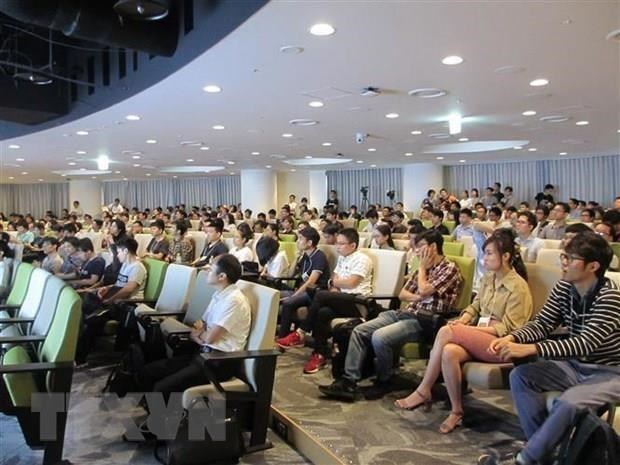 Vietnamese people in Japan attend a technology seminar in Japan
Governor of the Japanese central prefecture of Gunma Ichita Yamamoto committed all possible support to Vietnamese living and working there ,during a local reception for Vietnamese Ambassador to Japan Vu Hong Nam on October 4.
Yamamoto said foreigners and the Vietnamese community in particular have become an important part of the province's socio-economic development.
Ambassador Nam, for his part, expressed his hope that ties between Vietnamese localities and Gunma will keep growing under his leadership.
He told his host that the Vietnamese embassy in Japan plans to establish a Vietnamese association in Gunma in support of the Vietnamese living in need.
The diplomat lauded Gunma for holding the Gunma – Vietnam exchange festival, thus improving mutual understanding between the peoples of the two countries and opening up a new period for ties between Gunma and Vietnamese localities.
As of the late October 2018, there were over 5,900 Vietnamese people living in and working in Gunma, accounting for 0.3 percent of the local population. More than 3,400 of those are trainees, or 41.5 percent of the total foreign ones in Gunma.
The same day in Maebashi, the capital city of Gunma prefecture, the second Gunma – Vietnam exchange festival was held.
Visitors to the event had a chance to enjoy Vietnamese traditional food, play folk games and wear traditional Vietnamese long dress.
Earlier, Ambassador Nam visited Koganei Seiki Co. Ltd in Gunma's Kitagunma district where about 40 Vietnamese trainees are working.
He also held a working session with Mayor of Gunma's Tomioka city Yoshinori Enomoto and visited Tomioka silk factory./.
HCM City seeks innovative startup cooperation with Australia's Victoria state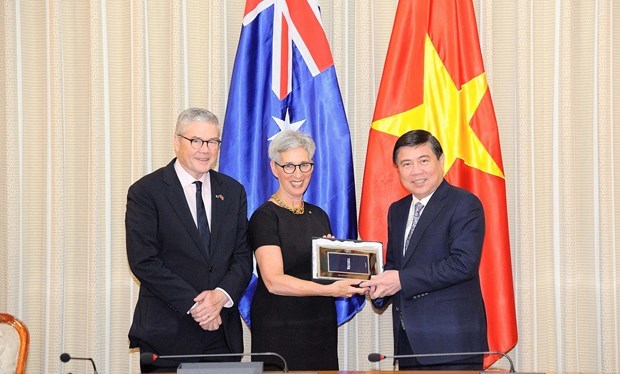 Chairman of Ho Chi Minh City People's Committee Nguyen Thanh Phong (R) presents a gift to Governor of Australia's Victoria state Linda Dessau (C) at the meeting on October 4
Chairman of Ho Chi Minh City People's Committee Nguyen Thanh Phong discussed with visiting Governor of Australia's Victoria state Linda Dessau ways to promote cooperation between the two sides, particularly in innovative startup and education, at a meeting on October 4.
Phong hailed the development of Vietnam-Australia ties across various fields such as trade, education, agriculture, military and tourism, stressing that the good bilateral relations positively contributing to the stability and prosperity of each country and the region as a whole.
He affirmed that HCM City considers Australia an important and trustful partner, and noted that the two sides have many opportunities to expand their cooperation to potential fields such as innovation, education, technology and trade.
The city is ready to embrace chances for cooperation with partners from Victoria state in developing the ecology for innovation, sharing experience in training startups and partnering to exploit markets, Phong said.
He added that the city also hopes to continue working with Victoria state in providing short-term training to managerial officials in the field of public administration.
Governor Dessau said Victoria administration and businesses appreciate the potential of HCM City and wish to further promote their partnership with the city in fields of common interests, especially in sectors that the state is strong in such as innovative startup, education, agriculture, smart city, clean energy and renewable energy. She added that the state is also interested in education projects in the Vietnamese city.
Australia is currently the 17th biggest foreign investor among 106 countries and territories investing in HCM City, running 182 projects worth nearly 188 million USD. Last year, two way trade between the city and Australia almost reached 979 million USD. The same year, more than 300,000 Australians visited HCM City./.
New Vietnamese ambassadors hoped to help with HCM City's development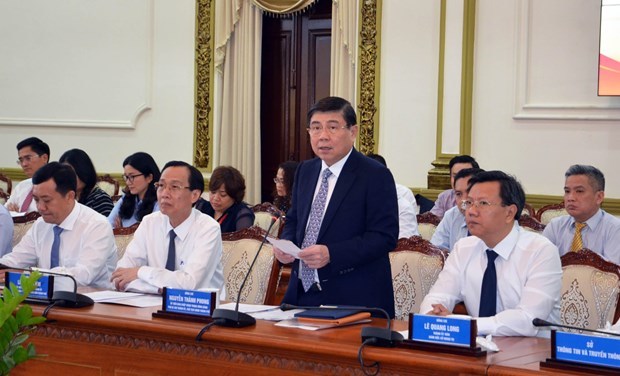 Chairman of the Ho Chi Minh City People's Committee Nguyen Thanh Phong (standing) speaks at the meeting with the new heads of Vietnam's overseas representative agencies for 2019-2022 on October 4
Chairman of the Ho Chi Minh City People's Committee Nguyen Thanh Phong received a delegation of the new heads of Vietnam's overseas representative agencies for 2019-2022 on October 4.
Wishing the 21 diplomats a successful term, Phong expressed his hope that they will be dynamic ambassadors helping to popularise HCM City's image as a friendly and liveable destination among foreigners.
He pledged that the city will always listen to and be a firm support for the overseas representative agencies to fulfill their assigned tasks, thus helping with national development.
The official stressed external work plays a crucial role in attracting and optimising external resources in terms of capital, knowledge and technology for developing the city into a modern, sustainable and liveable place for all people.
Over the past years, HCM City has carried out external work via all channels of the Party, administration and people, and in the pillars of politics, economy, culture, people-to-people diplomacy.
The work has helped not only promote the role, stature and socio-economic development of HCM City but also realise the Party and State's foreign policy and greatly contribute to raising Vietnam's prestige and standing in the international arena, Phong said.
On behalf of the diplomats, Pham Sao Mai, Director of the Foreign Ministry's Northeast Asia Department and Ambassador to China, said overseas representative agencies of Vietnam always pay attention to information about HCM City and also believe in the city's dynamism and creativity.
HCM City holds huge potential for developing its relations with international partners to serve local development, he noted.
At the meeting, the diplomats learned about the potential for cooperation between HCM City and the countries and territories they are about to assume their posts.

So far, the city has set up friendship and cooperative ties with 54 foreign localities across the five continents. It has also had close cooperation with international organisations like the World Bank, the Asian Development Bank and the German Development Bank (KfW).
In 2018, it attracted over 7 billion USD of foreign investment, accounting for 22 percent of the total foreign capital poured into Vietnam then. The city is currently home to 7,948 projects invested in by 106 countries and territories./.
New-style rural area building faces many challenges: Minister
Minister of Agriculture and Rural Development Nguyen Xuan Cuong speaks at the conference.
Middle-income trap, climate change and international economic integration are posing great challenges to agriculture, farmers and rural areas in Vietnam, Minister of Agriculture and Rural Development Nguyen Xuan Cuong said at a conference held in Hanoi on October 5.
According to Cuong, each commune in the country has met an average 15.32 criteria of new-style area and more than half of the communes nationwide (4,554 communes) have been recognised as new-style rural areas as of October.
However, many problems remain, he said, citing examples such as wide development gap between the localities, low rural income despite increases of 3.4-3.5 times from ten years ago, and environmental pollution.
It is a must to identify challenges in building new-style rural area in the past decade so as to shape up a more suitable plan in the coming time, he stressed.
At the event, Dang Kim Son from the Agricultural Market and Institutional Research Centre pointed out that the country lacks a comprehensive strategy to connect rural and urban areas, making it difficult to narrow down gap between rural and urban areas.
He suggested the establishment of an inclusive development model which encourages the development of rural economy.
Meanwhile, another expert at the conference said at in the past ten years, agriculture still accounted for 50 percent of the rural jobs, while the rural labour market is aging rapidly as rural residents tend to migrate to urban areas for jobs. Therefore, it is important to have vocational training policies for rural workers, and setting up good coordination between vocational schools and employers is a good choice./.