Vietnam regrets the French court's decision to reject the lawsuit of Tran To Nga to hold to account several multinational companies that produced and traded the toxic herbicide Agent Orange during the American war in Vietnam.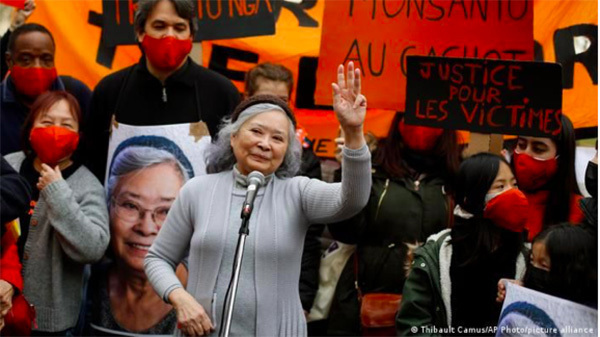 Tran To Nga. (Photo: AP)
Spokesperson for the foreign ministry Le Thi Thu Hang made the statement on Thursday in a press briefing held virtually in Hanoi, in response to questions regarding Vietnam's reaction to the decision of the court in Evry, near Paris. The court declined to even hear the case as it claimed to have no jurisdiction over the wartime actions of the US Government, ruling that the US firms were acting on orders from the US Government which was engaged in a "sovereign act".
Vietnam as a country has suffered devastating consequences of wars, including the long-lasting and serious impacts of Agent Orange/dioxin, spokesperson Hang said.
An estimated 4 million Vietnamese people have been exposed to AO/dioxin that the US military dropped in the central and southern region of Vietnam to clear out forests where they thought northern soldiers could be hiding, while 100,000 children have suffered from deformities.
"We fully support the Agent Orange/dioxin victims in seeking legal responsibility from chemical companies that produced and sold it. We are of the view that these companies have an obligation to redress the consequences that Agent Orange/dioxin has wreaked on Vietnam," Hang said.
Tran To Nga, a 79-year-old woman with dual citizenship in Vietnam and France, has been for the past decade seeking damages from the multinationals in recognition of severe chronic health issues as the result of exposure to the toxin.
Nga said she would continue to file an appeal.
Spokesperson Hang noted that throughout the trial, the Vietnamese embassy in France has been keeping in contact with Nga and providing necessary support when appropriate.
Earlier on Wednesday, Vietnam Association for Victims of Agent Orange/dioxin released a statement emphasising the court's decision rejecting Nga's lawsuit shows that it denied the right of French citizens who suffered damage from foreign legal entities to be recognised by French law.
The statement also mentioned an announcement from Nga's lawyers in which they said the court applied an obsolete definition of the immunity of jurisdiction principle that contradicted modern principles of international and national law. 
Ships monitored
Asked for Vietnam's comments on reports claiming that nearly 300 military ships of China have been encroaching waters near Truong Sa (Spratly Islands), Hang said relevant authorities of Vietnam "constantly monitor developments in the East Sea and maintain the protection of the country's sovereignty, sovereign rights and jurisdiction over the country's waters in line with international law and the 1982 United Nations Convention on the Law of the Sea."
The spokesperson also reiterated that Vietnam has sufficient historical evidence and legal basis to claim sovereignty over the Truong Sa islands, in accordance with international law.
"As a littoral country and a member of the 1982 UNCLOS, Vietnam is entitled to sovereignty, sovereign rights and jurisdiction over its waters as defined in conformity with 1982 UNCLOS," Hang stressed. 
Foreign arrival protocol
Regarding questions over whether the complicated COVID-19 developments in several countries might affect policy for foreign arrivals into Vietnam, spokesperson Hang said in observance of COVID-19 safety, the country has halted foreign entries, and only allowed in a limited number of categories of arrivals – including foreign investors, technicians, skilled labourers, and business managers – but they all have to strictly comply with existing health protocols.
Currently, Vietnam is setting limits for foreign arrivals, including returning Vietnamese, as the country is focusing on battling domestic outbreaks, she said.
The foreign ministry continuously keeps updated with the pandemic developments around the world, and works with relevant authorities to adjust or relax entry procedures to realise the dual goals of containing the pandemic and promoting socio-economic development.  
VNS 

Many newspapers of German have run stories highlighting the lawsuit lodged by Vietnamese French Tran To Nga against 14 multinational chemical companies that produced the toxic chemicals sprayed by the US army in Vietnam during the war, 

A French court on May 10 dismissed a lawsuit lodged by a French of Vietnamese origin against multinational companies that produced and supplied Agent Orange, containing dioxin sprayed by US troops during the Vietnam War, AP reported.