Vietnam's economy remains positive despite the slowdown in global economic growth, especially in Asia, over the last 11 months, Prime Minister Nguyen Xuan Phuc said while chairing the Government's regular meeting for November on December 2.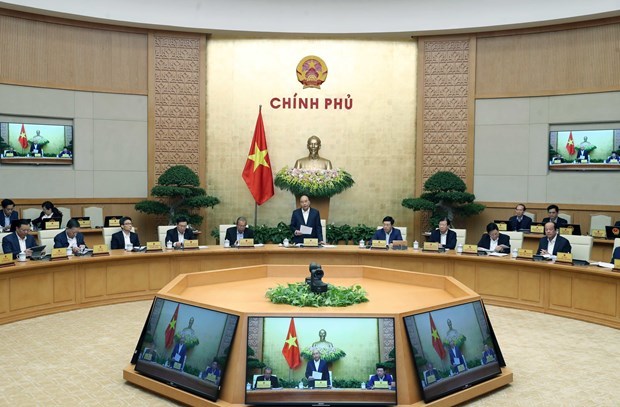 The Government holds the regular meeting for November on December 2
He noted that at the recent 8th session of the National Assembly, legislators applauded the Cabinet's governance achievements as seen in the fulfillment of all the 12 targets, especially the growth target, set by the parliament.
The people put trust in and have high expectations on the Government, the PM stressed.
However, he also analysed certain problems that must be addressed immediately.
He asked the agriculture and rural development sector to overhaul disease prevention and control and work harder to sustain Vietnam's position as one of the leading agricultural product exporters in ASEAN.
Meanwhile, industrial production has decelerated in some sectors like motorcycle, automobile and fertiliser production, and there hasn't been much progress in the disbursement of public investment capital, PM Phuc pointed out.
The Government leader requested all-level authorities and sectors to step up FDI attraction and further deal with pressing cultural, social, environmental and security issues.
The PM asked Government members to work out new solutions and initiatives to accomplish all targets for 2020, particularly the ASEAN chairmanship in 2020 and the non-permanent membership of the UN Security Council for 2020-2021, which he described as international positions with critically important roles amidst the changing world.
During the meeting, participants reviewed attainments over the last 11 months and discussed measures to perform tasks for next year.
Macro economic stability has been maintained, Vietnam attracted 31.8 billion USD in foreign direct investment (FDI) in the period, up 3 percent year-on-year, and FDI disbursement reached 17.6 billion USD.
Exports saw good growth, with a 9.2 billion USD trade surplus. Revenues from retail of goods and services also picked up 11.8 percent.
The index of industrial production expanded by 9.3 percent, and newly-established enterprises in the period numbered 126,700.
The November Consumer Price Index (CPI) was up 0.96 percent from the previous month, and the average CPI for the January-November period increased by a three-low of 2.57 percent on a yearly basis.
In particular, the number of foreign arrivals almost reached 16.2 million, up 15.4 percent from the same period last year./.
Minister: government asks ministries, agencies to fulfill targets
Minister and Chairman of the Government Office Mai Tien Dung updated socio-economic performance for November and 11 months of this year that was discussed at the Government's November meeting in Hanoi on December 2.
During a press conference held the same day following the meeting, Dung said the Government asked ministries and agencies to fulfill targets before the end of this year, and gave specific directions to stabilise pork prices, curb African swine fever, remove yellow card warning on Vietnamese aquatic products, step up capital allocation under the public investment plan, and disburse capital for key projects in electricity and transportation sectors.
A report by the Ministry of Planning and Investment showed that socio-economic situation for November and 11 months of this year continued progressing. Industrial production index went up 9.3 percent while manufacturing and processing rose by 10.6 percent.
In November, the total retail of goods and services increased by 12.6 percent, the highest in six years. Foreign tourist arrivals neared 16.3 million, up 15.4 percent year-on-year.
Consumer price index (CPI) in the month moved up 0.96 percent month-on-month due to rising pork and processed food prices. However, the 11-month CPI only rose by 2.57 percent, the lowest in the recent three years.
The November CPI inched up 3.78 percent from December 2018 and 3.52 percent annually.
Trade surplus hit 9.1 billion USD. Up to 30 commodities earned over 1 billion USD from exports and five others raked in more than 10 billion USD.
The total foreign direct investment reached 17.6 billion USD. There were 126,700 newly-established enterprises nationwide and 36,900 others resumed their operation, up 15.7 percent year-on-year.
Minister Dung also admitted shortcomings during 11 months such as high pork prices due to African swine fever, falling exports of farm produce, slow disbursement of public investment, and social, environment and security issues./. VNA