A delegation of the Defence Ministry, headed by Deputy Defence Minister Nguyen Chi Vinh, is visiting Japan from October 15 to 18 in a bid to boost cooperation in war aftermath alleviation in Vietnam.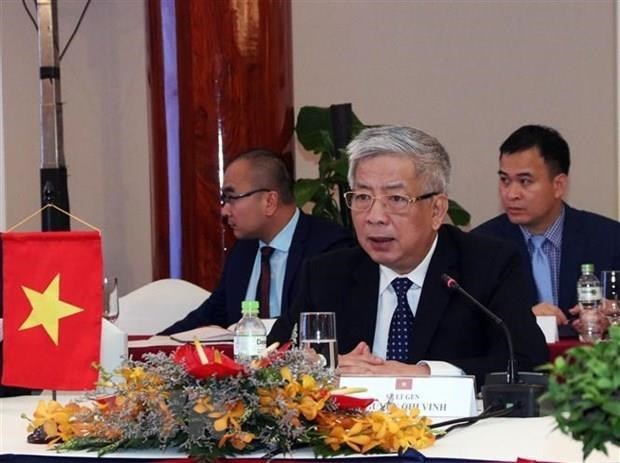 Deputy Defence Minister Nguyen Chi Vinh
As part of the trip, the delegation met with leaders of theJapanese Ministry of Defence, Foreign Ministry, National Police Agency'sSecurity Bureau, the Japan International Cooperation Agency (JICA), and anumber of related Japanese enterprises.
At these working sessions, the sides discussed their jointwork in easing war consequences in the past time and ways to increase thecollaboration in the coming time.
Deputy Minister Vinh took the occasion to thank relevantJapanese agencies and organisations for supporting Vietnam in carrying outprojects on bomb and mine clearance and dioxin detoxification. He highlightedJapan's provision of official development assistance to the newly established NationalAction Centre for Toxic Chemicals and Environmental Treatment (NACCET), in theform of machinery and equipment serving the survey and assessment of chemicalpollution level.
Vinh, who is also head of the National Steering Committee onthe Settlement of Post-War Unexploded Ordnance and Toxic Chemical Consequences(Steering Committee 701), said such cooperation builds trust and consolidatesVietnam – Japan extensive strategic partnership.
He asked Japanese public agencies and organisations tocontinue working together with their Vietnamese counterparts, particularly the SteeringCommittee 701, in implementing projects addressing the problems of unexplodedordnance left by war and toxic chemical, while studying the possibility of a long-termcooperation plan.
Joint work in communications campaign to raise local andinternational awareness of the two countries' collaboration efforts in thefield is also necessary, he added. 
During the visit, the delegation held a consultation with theJapanese Defence Ministry on matters related to Vietnam's Chair of ASEAN nextyear. The Vietnamese side asked Japan to join and support Vietnam's initiatives,and coordinate with the Vietnamese Defence Ministry for the successfulorganization of relevant conferences and activities./. VNA