A delegation of the Vietnam Fatherland Front Central Committee (VFFCC) paid a visit to Singapore from May 7 to 11, where the two countries agreed to actively cooperate in cultural and people-to-people exchanges.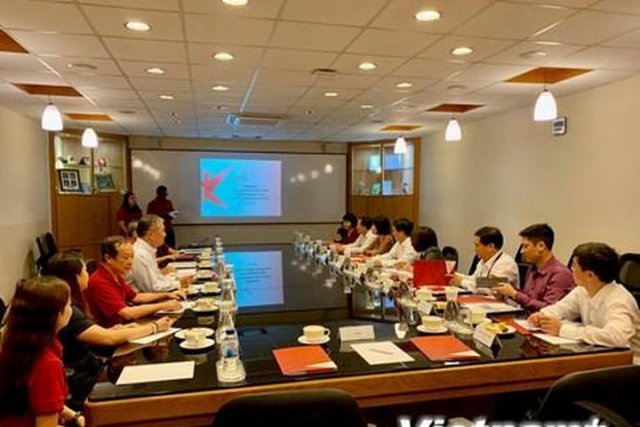 The meeting of the delegation of VFFCC and the officials of Singapore People's Association. Photo: Vietnamplus.vn
Vice President and Secretary General of the VFFCC, Mr. Hau A Lenh, stressed that the committee appreciates its cooperation with the Singapore People's Association and the similarities in people and culture as well as targets and activities between Vietnam and Singapore to improve living standards.
Based on this, the two sides will promote cultural exchange and artistic performances.
The Singapore People's Association's Chief Executive Director Desmond Tan also expressed his appreciation of the relationship between two countries over time and the signing of memoranda of understanding that have taken bilateral relations to a new level in both study and cultural exchange.
He also believes that culture and arts are the most effective way for the two peoples to enhance mutual understanding, not only in regard to culture but also more broadly.
Viewing culture as an important aspect of cooperation, in the time to come the two sides will send more art troupes to each other's country to attend major festivals such as the Hue Festival or the annual Chingay Festival in Singapore. Modern art forms will be the focus, such as visual arts, painting, and contemporary art.
With some 12,000 Vietnamese citizens living in Singapore, Mr. Lenh also expressed his expectation of the Singapore People's Association continuing to cooperate with local organizations to support the Vietnamese community.
As Vietnam attracts more and more Singaporean investors, it will also provide them with favorable conditions.
He also expects that the two countries will strengthen cooperation in all fields, especially in defense and security, economy, trade, and education and training, and in cooperative activities in ASEAN and other regional events.
The Vietnam-Singapore Cooperation Center (VSCC) opened in Hanoi in March, which is an upgrade of the Vietnam-Singapore Training Center that opened in 2002 under the Initiative for ASEAN Integration (IAI) launched in 2000. More than 10,000 Vietnamese officials have attended courses at the center, on topics such as language, communication skills, economic development, trade and tourism, public administration, administration and law, and information technology and communication.
In the context of Vietnam's rapid growth and development, the Vietnam-Singapore Training Center was upgraded and became the VSCC to demonstrate Singapore's long-term commitment in addressing regional countries' development needs and narrowing the development gap in the region, Ambassador of Singapore to Vietnam, H.E. Catherine Wong, said at the ceremony opening the new center. VN Economic Times
Le Diem