Over the past years, Vietnam has made great progress in promoting and protecting human rights through the ratification of important international treaties.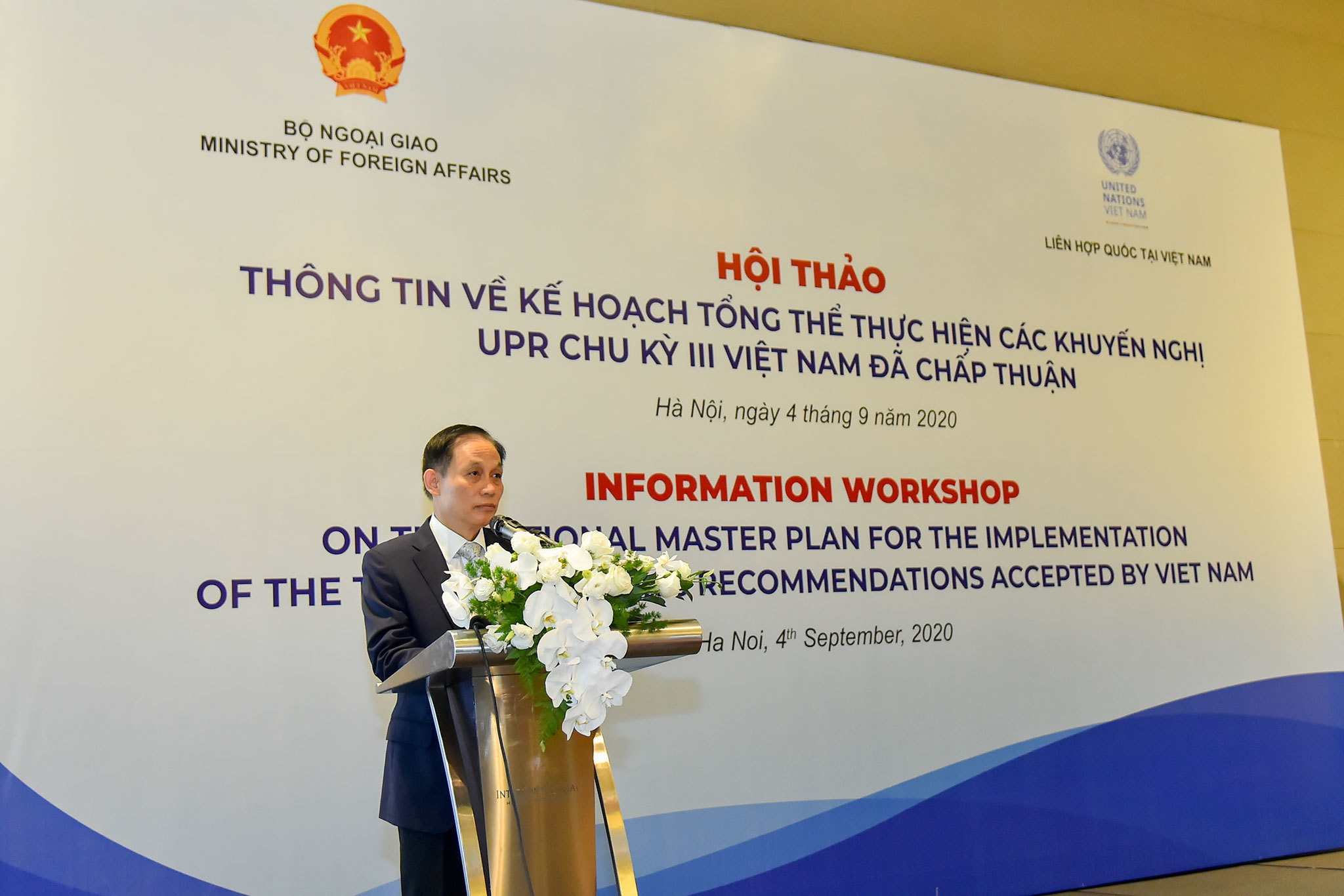 Deputy Minister of Foreign Affairs Le Hoai Trung
The Ministry of Foreign Affairs on September 4 cooperated with the United Nations Development Program (UNDP) in Vietnam to organize a workshop on a master plan to implement recommendations under the Universal Periodic Review (UPR) mechanism, period three, that Vietnam has approved.
The event attracted a large number of representatives from ministries, agencies, cities and provinces, research agencies and socio-political and professional organizations, people's organizations and many international organizations and foreign diplomatic missions in Vietnam.
Opening the workshop, Le Hoai Trung, a member of the Party Central Committee, Deputy Minister of Foreign Affairs, said that with a consistent policy on human rights protection and promotion, Vietnam has attached great importance to and fully and seriously participated in the UPR mechanism right from cycle one (2009).
The implementation of UPR recommendations has also brought about an impact on all aspects of social life in Vietnam, such as building a legal system of human rights, ensuring social security, and improving the lives of people.
Vietnam's experience in participating effectively in the UPR mechanism has also been highly appreciated by the international community, especially the issuance of master plans to realize recommendations over cycles.
Deputy Minister Le Hoai Trung also noted new challenges to the guarantee of human rights and the implementation of UPR recommendations, including the impact of the Covid-19 pandemic. At the same time, he affirmed Vietnam's determination and efforts in this matter, with the consensus and joint strength of the government and people, as well as the cooperation and support of international partners.
Vienam's commitment and its efforts to participate in the UPR mechanism were also acknowledged and highly appreciated in the speech of Ms. Caitlin Wiesen, Resident Representative of UNDP Vietnam. Ms. Wiesen suggested that in the coming time, it is necessary to integrate the contents of sustainable development and protection of vulnerable groups, ensuring the participation and contribution of the people in this task.
Representatives of the Vietnamese Foreign Ministry and a number of ministries, sectors, research agencies, and non-governmental organizations introduced the master plan to implement the UPR recommendations cycle three of Vietnam, which has been approved by the Prime Minister, and shared useful information and experiences on the role of UN agencies in supporting the implementation of UPR recommendations.
Attendants also discussed commitments and efforts of Vietnamese agencies to implement UPR recommendations in a number of key areas; solutions to improve education; raising awareness about human rights in Vietnam, especially for young people; and proposed measures to increase the effectiveness of UPR recommendations and to encourage the participation of beneficiaries.
The UN Human Rights Council's UPR mechanism was established in 2008 and is one of the outstanding successes, which was built on the principles of transparency, fairness, non-discrimination, and promotion of dialogue and cooperation among nations.
With a consistent policy on the protection and promotion of human rights, Vietnam attaches special importance to and always fully and seriously implements its obligations and commitments under the UPR mechanism. During cycle three, Vietnam received 291 recommendations from 122 countries and accepted 241 of them.
Thanh Nam

Major General Nguyen Thanh Hong, standing member of the National Assembly's National Defense and Security Committee, told VietNamNet that the Law on Cyber Security was created to ensure human rights and citizenship.