Vietnam appreciates its relationship with the Asian Development Bank (ADB) – one of the country's leading providers of capital, technical assistance and consultation, Deputy Prime Minister and Foreign Minister Pham Binh Minh said.
Red tape results in low ODA disbursement in Vietnam: ADB
ADB-funded project to help Vietnam increase health professionals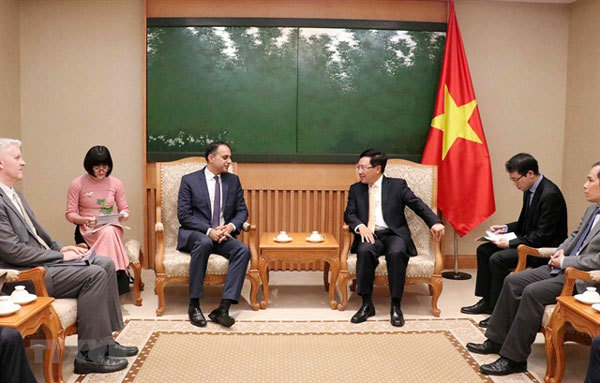 Deputy Prime Minister and Foreign Minister Pham Binh Minh welcome ADB vice president Ahmed Saeed in Hanoi on Tuesday. — VNA/VNS Photo Van Diep
He was speaking at a meeting on Tuesday with ADB vice president Ahmed Saeed in Hanoi, where he highlighted the bank's active engagement in policy consultation and institutional building for Government agencies, including the implementation of e-Consultation and e-Cabinet for the Government Office.
The ADB's support had helped spur Vietnam's socio-economic development, especially in infrastructure, health and human resources development, the Deputy PM said, adding that it had funded 173 programmes and projects with total capital exceeding US$16 billion and granted non-refundable aid worth over $340 million to the country.
He spoke highly of the bank's funding for seven programmes valued at $677 million in the fiscal year of 2018.
The Vietnamese Government had held direct dialogue with representatives of six banks in Hanoi to speed up and improve the efficiency of ODA loans in the future, the Deputy PM said.
He called on the ADB to create conditions to access less preferential loans or combine loans with aid to ease borrowing costs and ensure safety of public debts.
ADB vice president Ahmed Saeed said ADB valued the Vietnamese Government's close supervision of projects using ODA loans from the group of six donors, including the ADB, especially after the Government established the national steering committee for ODA and preferential loans.
The committee had helped improve the efficiency of ODA loans and enhance understanding between Vietnam and the donors, he said, adding that ADB would continue to accompany the country to maintain its stability and sustainable economic development.
Politburo member Nguyen Van Binh also met with the ADB vice president on Tuesday.
Binh, who is also Secretary of the Party Central Committee and Head of the Party Central Committee's Economic Commission, said he was delighted at the cooperation between Vietnam and the lender.
He said Vietnam appreciated the bank's assistance in capital funding and policy consultancy.
Saeed spoke highly of Vietnam's goodwill cooperation with ADB and its policies to manage macro-economic stability and inflation and spur growth.
He said ADB would continue to help develop transport infrastructure, energy, human resources, climate change response, science-technology, and the development of the private sector.
VNS