Vietnamese Deputy Foreign Minister Nguyen Quoc Dung has thanked the Foreign and Commonwealth Office and relevant agencies of the UK for their active support and sharing of information related to lorry deaths in Essex with Vietnam.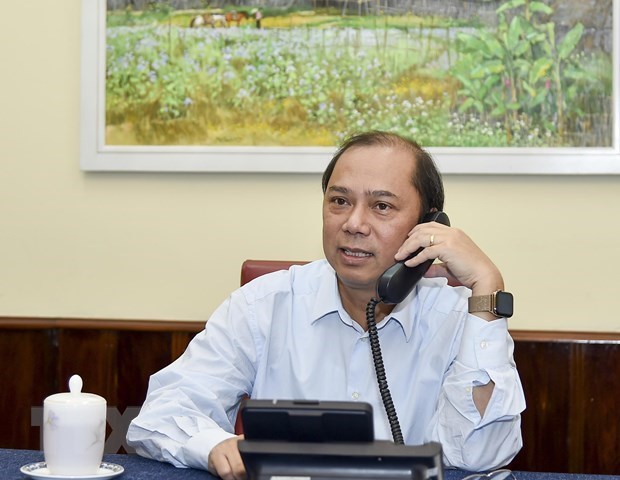 Vietnamese Deputy Foreign Minister Nguyen Quoc Dung
Vietnamese DeputyForeign Minister Nguyen Quoc Dung has thanked the Foreignand Commonwealth Office and relevant agencies of the UK for their active supportand sharing of information related to lorry deaths in Essex with Vietnam.
In his phone call to Minister for Asia and the Pacific at the Foreign andCommonwealth Office Heather Wheeler on October 29, Dung appreciated British agenciesfor their assistance in accelerating the identification of the victims in thetragedy in which 39 people were found dead in the container truck in Essexcounty of the UK on October 23.
He also proposed the UKside help Vietnam to implement the protection of citizens if there areVietnamese victims in the incident.
Wheeler affirmed that theBritish side is making every effort to identify nationalities and names of thevictims, and ready to work closely with relevant sides to quickly complete the identificationprocess.
The two officials affirmed to continue working together closely, while stronglycondemning the trafficking of humans and showing the determination to fight transnational organised crimerings that organise illegal migration.
They also agreed to call on the international community to strengthencooperation and resolutely combat this kind of crime.
Vietnam speeding up identification process of lorry victims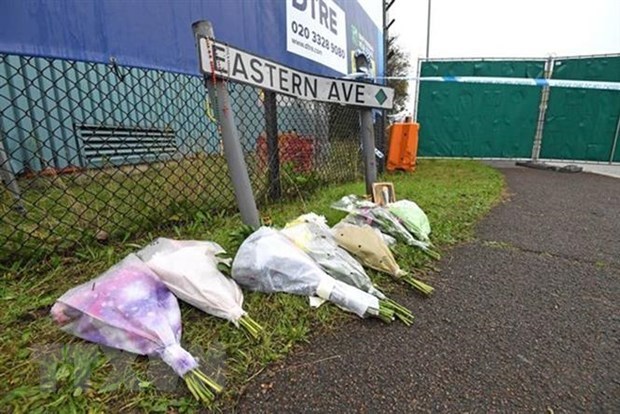 Flowers left in tribute to the 39 migrants who died in the truck.
Vietnamese authorities are working to accelerate the identification of victims thought to have been involved in the lorry incident in Essex, the UK, according to Deputy Foreign Minister Nguyễn Quốc Cường.
Maurice 'Mo' Robinson, who has been charged with manslaughter and people trafficking, appeared in court on Monday. "The nationality of the victims hasn't been officially confirmed yet," Cường said during a conference in the city of Vinh.
Việt Nam and Britain "are trying to speed up identification of the bodies, but no deadline has been set."
British police have appealed to the Vietnamese community to help identify the 39 victims who were recently found in a truck. In a video released yesterday, Detective Chief Inspector Martin Passmore urged people to pass on any information they have to help them establish the identities of the deceased.
"Meet with my officers who I promise you will help you, we will do everything we can to reunite you with your lost family member. That's all we want to do," Passmore said.
"We want to treat you with dignity and with respect and do everything we can to help you."
"I promise you, you will not be arrested and we will not be sharing your information with anybody else. So please come forward and let us help you."
People can contact the Vietnamese Embassy on +44 7713 181501 or Việt Nam's citizen protection hotline on +84981 8484 84.
Vietnam, UK to accelerate identification of UK container tragedy victims
Vietnam's Ministry of Foreign Affairs has been working hard to speed up the process of identifying the victims of last week's tragedy in which 39 people froze to death in a container truck in Essex county, the UK.
The Ministry has cooperated closely with the Ministry of Public Security, the UK embassy in Hanoi and relevant localities.
14 families in Vietnam have reported that their relatives have gone missing in the UK.
The Vietnamese Embassy in the UK has kept in contact with the police in Essex and relevant British agencies to exchange information while preparing necessary citizen protection measures in case there are Vietnamese victims in the tragedy.
Anyone needing assistance related to the case can contact the Embassy of Vietnam in the UK via its hotline for assisting overseas Vietnamese at +44 7713 181 501 or Vietnam's citizen protection hotline at +84 981 84 84 84.
The 39 bodies were found in a lorry trailer at an industrial park in Grays, Essex, last Wednesday.
Signing in a book of condolence, Prime Minister Boris Johnson said the world was been "shocked by this tragedy".
DNA tests are being carried out in Vietnam to help identify the victims. VNS/VNA/VOV

UK Ambassador in Viet Nam Gareth Ward released a statement on Monday on the deaths of 39 people in Essex.

The Ministry of Public Security has directed the Social Order-Related Crime Investigating Police Department to work with Ha Tinh and Nghe An to verify information of local residents who reportedly went missing while moving from France to the UK.