Vietnamese Prime Minister Nguyen Xuan Phuc had a meeting with President of the Norwegian Parliament Tone Troen on May 24 (local time) as part of his official visit to Norway.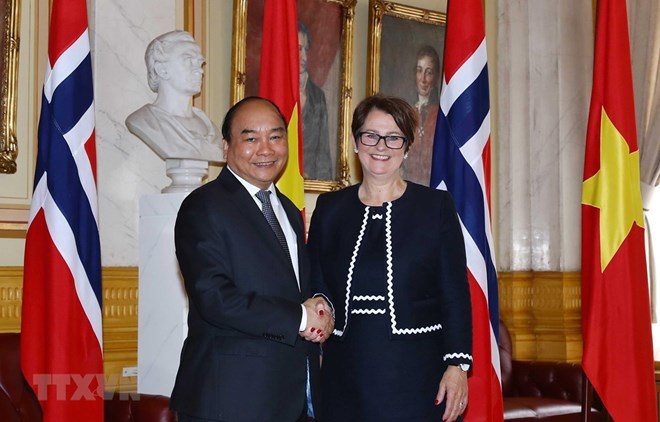 Prime Minister Nguyen Xuan Phuc (L) meets President of the Norwegian Parliament Tone Troen
Both leaders expressed their delight at the positive development of relations between Vietnam and Norway as well as between the parliaments in particular over the years.
They held that Vietnam and Norway boast great potential for stronger cooperation in various areas.
PM Phuc conveyed Vietnamese National Assembly Chairwoman Nguyen Thi Kim Ngan's greetings and invitation to the Norwegian leader to visit Vietnam.
Troen lauded Vietnam's completion of the Millennium Development Goal in poverty reduction ahead of schedule, pledging that Norway will continue supporting Vietnam in the field.
She said that in the coming time, the two parliaments should increase the exchange of experience in law building, supervision and enforcement, while supporting each other at multilateral parliamentary forums such as the Inter-Parliamentary Union (IPU) and ASEAN Inter-Parliamentary Assembly (AIPA).
The leaders highlighted the significance of economic cooperation and the need for the soon signing of a Free Trade Agreement between the European Free Trade Association (EFTA) and Vietnam.
PM Phuc proposed the parliament of Norway support the business communities of both nations to strengthen connections and partnerships, while encouraging Norwegian firms to invest more in Vietnam in marine transport, shipbuilding, oil and gas, aquaculture, renewable energy, consumer goods, and information technology.
The Vietnamese Government is implementing many policies to encourage and support foreign investors, including those from Norway, to operate effectively in Vietnam for a long term, he stressed.
PM Phuc also proposed that Norway open its market for Vietnamese traditional products, especially farm produce, consumer goods and electronics products.
In the context that Vietnam and Norway are switching their relations from development cooperation to development partnership for mutual benefit, Vietnam expects that the Norwegian parliament will back dialogue mechanisms and political consultations as well as other new cooperation methods, especially in climate change, clean energy, blue economy and sustainable development, he said.
The PM expressed his hope that Norway's parliament will continue assisting the 20,000-strong Vietnamese community in the country to stabilise their lives and well integrate into the host society, so that they could work as an important bridge to enhance the friendship, mutual understanding and close relationship between the two nations.
Both leaders agreed to work together in maintaining peace and ensuring freedom and security of navigation and aviation in the East Sea, as well as the peaceful settlement of disputes in line with international law, including the 1982 UN Convention on the Law of the Sea (UNCLOS).
PM Nguyen Xuan Phuc receives leaders of Norwegian groups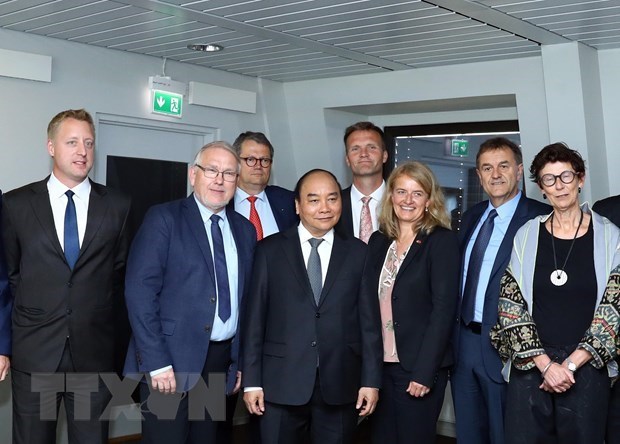 Prime Minister Nguyen Xuan Phuc (third from left, first line) receives leaders of leading Norwegian groups
Vietnamese Prime Minister Nguyen Xuan Phuc had a meeting with leaders of leading Norwegian groups in Oslo on May 24 (local time) as part of his official visit to the European country.
At the meeting, leaders of the Norwegian groups such as Kongsberg, DVL-GL, Pharmaq, Vard, Jotun and Scatec Solar said that Vietnam is an open and potential market and voiced their hope that the Vietnamese Government will ensure a fair "playing ground" for foreign investors.
Jotun CEO Morten Foyn said his group is planning to build another paint factory in the southern area of Ho Chi Minh City with an investment capital amount of 100 million USD, besides its first in neighbouring Binh Duong province which was constructed in 1997.
Geir Haoy, President and CEO of Kongsberg Group – a leading technology group in Norway – said that Vietnam is becoming an attractive destination for foreign investors with its rapid and stable growth rate.
He expressed his hope to cooperate with Vietnam in expanding the application of technology in aquaculture and in developing its sea-based economy.
Raymond Carlsen, CEO of Scatec Solar which freshly signed a 500-million-USD investment cooperation deal with Vietnam at the Vietnam-Norway Business Forum, shared that the investment will be poured into a solar power project and wished to build a laboratory in the country to support it in studying, transferring and exporting renewable energy technology to the region.
He believed that Vietnam will issue a new preferential policy on tariffs for those who invest in renewable energy.
For his part, PM Phuc affirmed that Vietnam attaches importance to all economic sectors and foreign investors.
Showing his impression at Geir Haoy's ideas, he said that Vietnam has paid attention to the sea-based economy. He assigned Vietnamese Deputy Minister of Agriculture and Rural Development Le Quoc Doanh to hold in-depth discussions with the group on this issue.
The government leader stressed that Vietnam always welcomes and is willing to create all favourable conditions for foreign investors, including those from Norway.
VNA