Viet Nam and the European Union have agreed to establish periodical defense-security consultation mechanism as part of efforts to effectively realize their defense-security partnership.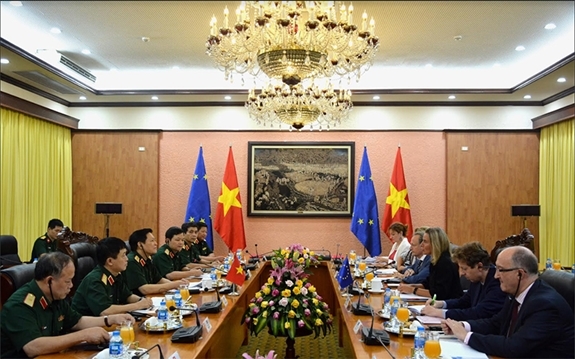 Minister of National Defense Ngo Xuan Lich holds talks with EU High Representative for Foreign Affairs and Security Policy Federica Mogherini at the headquarters of the Ministry of National Defense in Ha Noi on August 5, 2019. Photo: VGP
The agreement was reached at the talks between Vietnamese Minister of National Defense Ngo Xuan Lich and  in Ha Noi on Monday.
At the talks, the two officials spoke highly of the sides' efforts in building the partnership conducive to socio-economic development in Viet Nam and the EU since they established diplomatic relations in 1990.
The signing of the Partnership and Cooperation Agreement in 2016, the Free Trade Agreement and the Investment Protection Agreement in 2019 reflects the sides' commitments to foster peace and the rule of law through multilateral approach and cooperation, including defense-security area.
The pair agreed that the defense-security partnership will help promote and protect the principles and basic rights enshrined in the United Nations Charter and the Universal Declaration on Human Rights, contributing to maintain the rule-based international order.
Such partnership will also help strengthen multilateral cooperation effectively in favor of stability in the region and accelerate peaceful and sustainable solutions to conflicts.
Both sides pledged to work together to achieve specific outcomes in addressing common security challenges in Asia and other places through full enforcement of the Resolutions and the Women, Peace, and Security Agenda of the United Nations Security Council.
The two officials welcomed the completion of talks on an agreement that pays the ways for Vietnam to join the EU's crisis management operations, committing to beef up cooperation in the United Nations-led peacekeeping operations, including capacity building and training activities.
Lich voiced his support for the EU's wish to join defense-security architectures in Asia-Pacific region while Ms. Federica stressed the UE expects Viet Nam to continue contributions to the maintenance of peace, stability and development in the region as the ASEAN Chair in 2020. VGP
Huong Giang