The National Assembly spent the morning of October 24, the 4th working day of its 8th session, to discuss the draft law amending and supplementing a number of articles of the Law on Cadres and Civil Servants and the Law on Public Employees.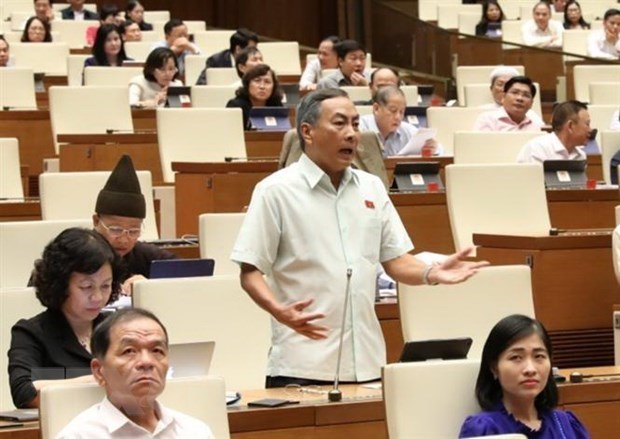 A deputy speaks at the session.
The draft law presented to the NA this time has been adjusted based onprevious discussions.
NA deputies focused their attention on the issue of "talented persons" inpublic duty in the Law on Cadres and Civil Servants, saying that thestipulations on this issue are not clear and concrete enough for application inreality. Other issues of interests are the classification and evaluation ofcivil servants, grades of civil servants, methods to recruit civil servants,and disciplinary measures against those who have quitted work or retired.
 Regarding amendments to the Law on Public Employees,the opinions centred around the recruit and contracts of newly-recruited publicemployees, and the prescription of discipline.
Concluding the discussion, NA Vice Chairman Uong Chu Luu said the draftlaw institutionalizes the requirements set in the Party's documents to build acontingent of qualified and capable cadres, civil servants and publicemployees. The NA Standing Committee will further perfect the draft law beforesubmitting it to the NA for approval.
Inthe afternoon, the NA listened to the Government's feasibility report on theLong Thanh international airport-phase one and the NA Economic Committee'sverification report.
Ministerof Planning and Investment Nguyen Chi Dung also presented to the NA a proposalon the intention to invest in a reservoir named Ke Pet in Ham Thuan Namdistrict, the south central province of Binh Thuan.
NA deputies then discussed the two investment projects in groups.
On October 25, the NA are scheduled to examine the draft law amendingand supplementing a number of articles of the Law on Organisation of theGovernment and the Law on Organisation of Local Governments, and the draft lawamending and supplementing a number of articles of the Law on State Audit./.VNA