Vietnam and Malaysia have agreed to enhance economic cooperation to increase two-way trade to US$15 billion by next year.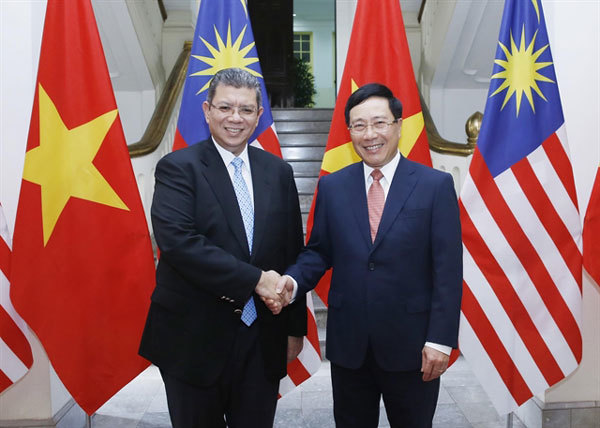 Deputy Prime Minister and Foreign Minister Pham Binh Minh (R) meets Malaysian Foreign Minister Saifuddin Abdullah in Hanoi yesterday. — VNA/VNS Photo Lam Khanh
The agreement was reached during talks between Deputy Prime Minister and Foreign Minister Pham Binh Minh and Malaysian Foreign Minister Saifuddin Abdullah in Hanoi yesterday.
They agreed to cooperate to remove barriers and create favourable conditions for businesses to cooperate, particularly in potential fields of urban development, renewable energy, electronic production and agro-forestry and fisheries.
They pointed to the need to increase exchanges of high-ranking delegations to deepen the strategic partnerships.
The two sides committed to promote mechanisms and sign new cooperation agreements in defence and security.
They discussed measures to improve efficiency in other important fields, including education and training, labour, transport, information and communication, and culture and tourism.
Deputy PM Minh said the first visit to Vietnam by the Malaysian Minister would play an important part in strengthening and speeding up the strategic partnerships.
Minister Abdullah said Malaysia always attached great important to developing cooperation with Vietnam in all fields.
The two sides discussed regional and international issues.
Meeting with PM
Vietnam always treasures its relations with Malaysia, one of the country's important partners in the region, Prime Minister Nguyen Xuan Phuc said while meeting the Minister later that day.
PM Phuc said both foreign ministries should work to carry out measures to foster relations and cooperation in the future.
Abdullah said the Malaysian PM wishes to enhance cooperative ties with Vietnam and suggested both nations bolster cooperation beyond traditional fields to Industry 4.0 and robotics.
PM Phuc welcomed the Malaysian diplomat's recommendations, highlighting that Vietnam has potential in these fields.
The Vietnamese Government leader said that due attention should be paid to lever cooperation in high-quality infrastructure development, high technology, logistics, and energy.
The Vietnamese Government committed to providing favourable conditions for Malaysian corporations to do business in Vietnam, he said.
Regarding the East Sea issue, PM Phuc agreed with the Malaysian FM's viewpoint on a consensus in ASEAN on accelerating negotiations of the Code of Conduct in the waters with China.
He said all parties must respect international laws, particularly the 1982 United Nations Convention on Law of the Sea (UNCLOS 1982), and ensure security, safety, and freedom of aviation and navigation in the region.
VNS