Resolutions to adjust public investments within the 2016-20 period were passed at the 14th extraordinary session of HCM City's People's Council's ninth term held on Saturday.
HCM City eyes systematic public investment
HCM City to call for Public-Private Partnerships in education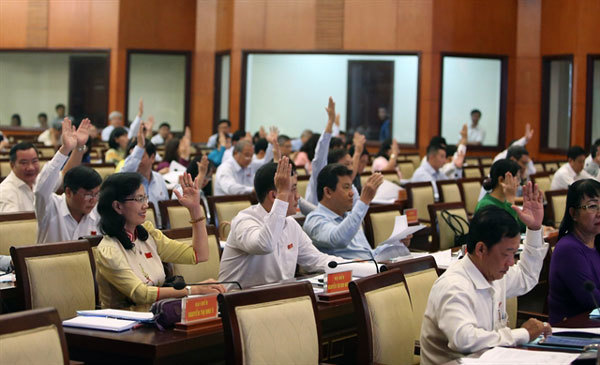 Members of HCM City People's Council pass resolutions on investment and social issues. VNA/VNS Photo Thu Hoai
Public Investment was increased to VND401 billion (US$17 million) from VND300 billion ($12.9 million) for compensation in site clearance cases to build national-standard public schools in Tan Binh District's Ward 6. The project was approved by the city's People's Council in 2015.
The members of the People's Council also passed another resolution on providing milk to improve nutrition and stature for kindergarten and primary students in the city from 2018 to 2020.
Instead of being implemented in the second semester of the 2018-19 academic year, the project will be carried out in the first semester of the 2019-20 year.
In addition, a resolution to award VND100 million for first prize, VND80 million for second prize and VND60 million for third prize in the HCM City Innovation Contest was passed.
At the meeting, Vo Van Hoan and Ngo Minh Chau were selected to become new vice chairmen of the HCM City People's Committee.
Vo Van Hoan was former chief of the secretariat and spokesperson for the city People's Committee. He was elected with 82 of 90 votes. Ngo Minh Chau was former deputy head of the HCM City Police. He was elected with 88 of 90 votes.
The HCM City Party's Committee Secretary Nguyen Thien Nhan said that 2019 would be the year of breakthroughs in administrative reform and implementation of Resolution 54, which was approved in late 2017 by the National Assembly, creating special policies for HCM City.
Under Resolution 54, the city can more easily call for capital and investment, as well as set its own policies on methods of staff assessment and salaries.
Adding personnel to the city's agencies will also create breakthroughs, Nhan said.
By the end of next month, the city will add new vice chairmen for the People's Council, People's Committee and other personnel for city departments.
Nguyen Thi Le, chairwoman of the city People's Council, praised the council and the People's Committee for their efforts in the implementation of social and economic tasks this year.

In the first quarter of this year, the city saw positive socio-economic development results, creating a foundation for growth of the manufacturing industry, commerce and services, she said. Administrative reform had also progressed well, she added.
In the upcoming time, the People's Council will also supervise the investment of projects to build belt roads No 2 and 3, among other tasks.
VNS