The National Assembly's Foreign Affairs Committee has pointed out the main obstacles to investment by foreign investors in Vietnam and the Government's management of foreign-invested firms.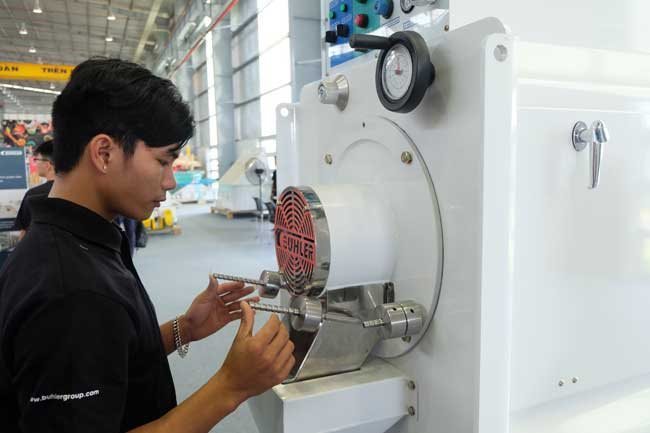 A laborer works at a foreign-invested company. The National Assembly's Foreign Affairs Committee has identified the main obstacles affecting foreign investors and State management agencies
The committee has delivered a report on the deployment of policies and laws on the management of foreigners in Vietnam to the NA. Accordingly, the 2014 Investment Law has helped create fairer business conditions for foreign investors.
However, last year, six foreign investors filed lawsuits against the Vietnamese Government, and some others are completing procedures for new lawsuits, Thanh Nien Online newspaper reported.
Foreign investors' disputes with the Government and State management agencies have negatively affected the local business environment and wasted time and resources.
In addition, criteria to choose projects matching the development plans of localities have yet to be worked out.
Procedures involving foreign-invested enterprises' supplementation of business lines, which must be approved by the Ministry of Planning and Investment, have yet to be outlined. Prevailing regulations on investment through share acquisitions have raised costs for foreign investors.
Moreover, procedures for foreign investors to acquire shares are unclear.
The overlapping regulations in the laws on public investment, management and use of State capital in production and business activities for enterprises, land, construction, the real estate business, housing and environmental protection have caused difficulties in investment activities.
Investment through capital contributions and stake acquisitions is on the rise, while regulations under the Investment Law are not tough enough. Accordingly, investors are not required to register their investment, causing difficulties for State management agencies in managing enterprises and posing a high risk of trade fraud.
Under the 2013 Land Law, land use rights cannot be transferred to foreign-invested enterprises; instead, they must lease land lots from the State. Therefore, their projects outside industrial parks, export processing zones, hi-tech parks and economic zones cannot be executed if they are not covered by regulations on land recovery in the Land Law.
Further, some foreign-invested enterprises have failed to fulfill their tax obligations. Many of them have reported losses to avoid paying taxes, but these losses may derive from transfer pricing.
Therefore, the NA's supervisory delegation has proposed amending and supplementing regulations on conditional business lines, requirements for foreign investors, the merger and expansion of projects, investment balance and the appraisal of prices and quality of imported equipment as fixed assets of foreign-invested enterprises in the Investment Law.
The Foreign Affairs Committee's report also showed that from 2016 to October 2019, nearly 11,600 foreign-invested projects with total registered capital of US$69.29 billion were granted investment certificates.
In the period, the disbursed capital increased annually, from US$15.8 billion in 2016 to US$17.5 billion in 2017 and US$19.1 billion in 2018. SGT
 

European and American investors were concerned by the lack of rigid policies on corporate transparency and intellectual protection.

The Vietnamese government is trying to lure investors to the country's infrastructure development projects amid limited public funding and experts believe the investors will come if the government can create a sound legal and regulatory environment.