Several National Assembly deputies have proposed considering the supply of clean water as a conditional business field while offering feedback on amending the Investment Law, saying that this should be treated as a matter of national security.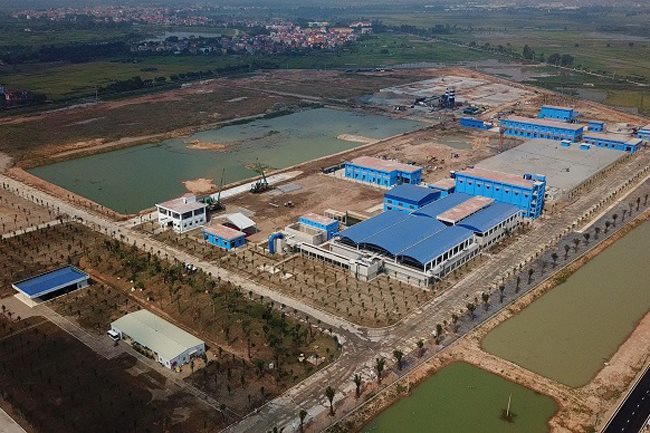 An aerial view of the Duong River Surface Water Plant in Gia Lam District, Hanoi – PHOTO: DAU TU NEWSPAPER

The local media has recently raised concerns about a foreign firm's acquisition of a major stake in a water supply firm in Hanoi.
During a session on Wednesday, several legislators voiced concerns over water pollution incidents that have disrupted the daily routine of Hanoian residents.
Deputy Truong Trong Nghia of HCMC proposed the Government reconsider foreign ownership in several key sectors, such as water supply.
Thailand-based WHA Utilities and Power PLC (WHAUP) now holds a 34% stake worth VND2.07 trillion (US$90 million) in Duong River Surface Water Plant JSC (DRSW) in Hanoi City.
Clean water is a matter of national security, which could affect everyone, but there remain legal loopholes, he said. Therefore, he suggested categorizing the water supply sector as a conditional business area in the revised Investment Law.
He stressed that laws create favorable conditions for various types of business sectors but tighter control and limitations on share transfers to foreign investors in water supply plants is needed.
Deputy Nguyen Thi Xuan Thu, a lawmaker from the south-central province of Khanh Hoa, echoed a similar point of view, stating that business requirements in the water supply sector should be made stricter given that the recent water contamination incident involving the Da River affected the health of so many households in Hanoi.
With DRSW as a major investor, the water treatment plant in Gia Lam, an eastern fringe district of Hanoi, currently in its first phase, treats 300,000 cubic meters of water per day, and plans to expand this capacity to 1.2 million cubic meters per day by 2030, according to a VnExpress report.
The plant uses crude water from Duong River, which flows 68 kilometers through Hanoi and the northern province of Bac Ninh.
Once fully completed, the plant is expected to supply clean water to one third of Hanoian residents and some districts of neighboring provinces (to some three million people).
DRSW was set up in 2016 as a joint venture between four investors who contributed a total of VND5 trillion (US$216 million), according to local news reports. At the time, the reports said, Aqua One Water JSC, a private local water firm, held a 58% stake in the firm; investment fund Vietnam Oman Investment, 28%; State-owned Hanoi Water Co., Ltd, 10%; and Newtatco, a tech and tourism firm, 5%.
In the latest transaction, Vietnam Oman Investment sold its entire stake to WHAUP, while Aqua One Water sold 7%, said the reports.
Two years ago, the government of Hanoi City approved a proposal to purchase water from the Duong River facility at a price of VND10,246 per cubic meter, more than double the price of Song Da Water Investment JSC and other water firms, reported the Vietnam Investment Review. SGT
 

The furore around the questionable price of water charged by Duong River may be the main reason behind its CEO leaving.

The Hanoi People's Committee has agreed to allocate nearly VND200 billion (US$8.7 million) from the municipal budget to subsidise clean water prices for residents.