The WB always stands ready to support Vietnam in implementing the Support Program to Respond to Climate Change, Christophe Crepin, head of social, environmental and rural development unit, East Asia and Pacific region, WB said.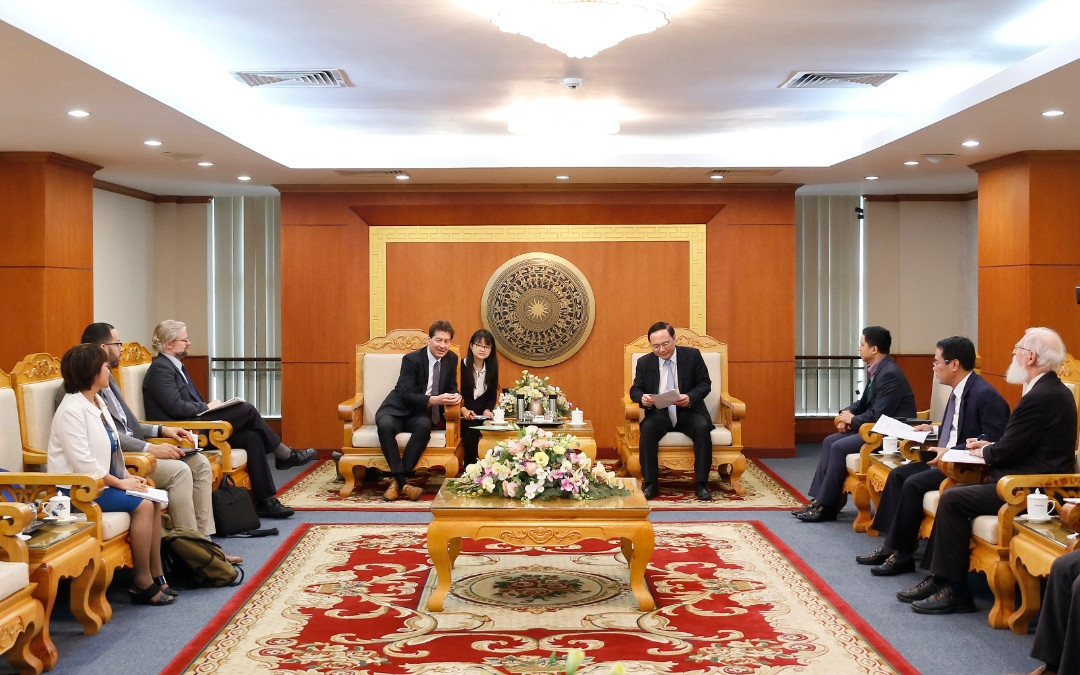 A view of the meeting.
At a meeting with Deputy Minister of Natural Resources and Environment Le Cong Thanh in Hanoi on May 10, Christophe Crepin pointed out that the WB always attaches importance to cooperating with Vietnam's Ministry of Natural Resources and Environment (MONRE) and government agencies to update new policy matrixes related to climate change and green growth in the next period.
He also appreciated remarkable results which the Vietnamese government achieved in the formulation and implementation of policies related to climate change and green growth.
For his part, Deputy Minister Le Cong Thanh emphasized that the SP-RCC has become a major policy forum to exchange, develop policies and support climate change response.
Up to now, there have been more than 300 policy actions discussed, developed and implemented by ministries, sectors and development partners. Over US$1.2 billion has been mobilized directly through the SP-RCC, Thanh cited.
Emphasizing on the program's effectiveness, Christophe Crepin said that the SP-RCC was widely known not only in Vietnam but also shared on international forums as an effective model to attract worldwide support to climate change response.
Vietnam will need an action plan to climate change response and specify the resources to mobilize resources from development partners, he added.

In order to keep implementing this program in the coming time, Christophe Crepin proposed that the Vietnamese government should apply coordination mechanisms between development partners and climate change response activities by ministries and agencies.
Agreeing with Christophe Crepin, Deputy Minister Le Cong Thanh recommended the ministry and the WB continue to exchange views for policy orientation on climate change and green growth, consistent with Vietnam's socio-economic development.
The deputy minister stressed that global climate change issue after 2020 will enter a new phase. The implementation of the nationally determined contributions (NDCs) will be the main task of each country, Thanh noted.
"Therefore, the SP-RCC needs adjustments to support the implementation of NDCs effectively. Mobilizing and combining resources to develop policies, then implementing climate change goals in NDCs is an important issue that Vietnam wishes the WB to cooperate with," Thanh said.
He appreciated the WB's cooperation proposals to support Vietnam in climate change response. These proposals will help Vietnam implement commitments to reduce greenhouse gas emissions after 2020. Hanoitimes
Anh Kiet