Fifty-two individuals and groups in HCM City won prizes at the 28th Young Informatics Contest for students at all primary, secondary and high schools in the city on Sunday.
VN to lack 400,000 IT workers by 2020
The year 2018 sees Vietnamese students earn gold medals at International Olympiads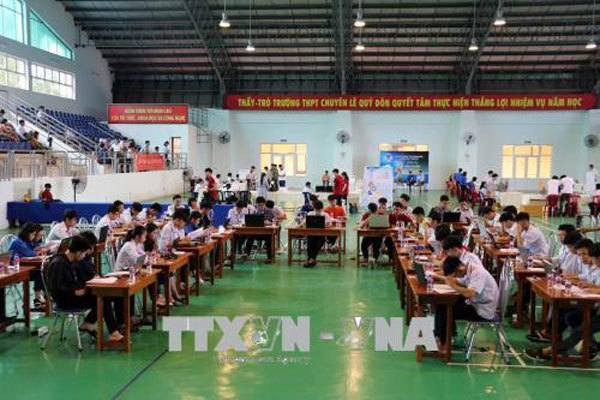 The National Young Informatics Contest in Ba Ria-Vung Tau Province in 2018. (Illustrative image. -- VNA/VNS Photo)
The annual contest is organised by the HCM City-based Ho Chi Minh Communist Youth Union in collaboration with the city's Department of Information and Communications, Department of Science and Technology, Department of Education and Training, HCM City Television and HCM City Computer Association.
Between February and May, the contest organisers received more than 39,400 entries and selected 510 students to participate in the final round of the contest. The awards were given in two categories: knowledge and skills in informatics and innovative products.
There were four first prizes worth VND5 million (US$214) each, six second prizes worth VND3 million ($128) each, six third prizes worth VND2 million ($86) each, and 36 consolation prizes worth VND1 million ($43) each.
The first prizes were given to Bui Nguyen Ngoc Thang from the High School for Gifted Students at Viet Nam National University-HCM City; students Nguyen Truong Mai Phuong, Tang Thanh Ha and Luong Bao Ngoc from Cach Mang Thang Tam Secondary School in District 10; Bui Nguyen Duc Tan from Tran Dai Nghia High School for Gifted Students in District 1; and Tran Ngoc Anh from Ket Doan Primary School in District 1.
Doan Kim Thanh, director of the HCM City-based Ho Chi Minh Communist Youth Union's Youth Development Science and Technology Centre, said there was increasing labour demand for IT workers who play an important role in the city's socio-economic development.
"The contest is a meaningful activity that creates favourable conditions for students to be creative," he said.
Nguyen Truong Mai Phuong said her group product was a multi-purpose sanitation vehicle that automatically sweeps garbage, cleans floors, and and collects and sorts garbage.
"We hope the product can help sanitation workers reduce their hard work and contribute to environmental protection in the city."
Ho Tran Ngoc Liem, a disadvantaged student at Nguyen An Khuong Secondary School in Hoc Mon District, was presented a computer from the organising board. He won second prize with the design for a mobile app to help students who are science majors.
All winners will be trained and selected to join the annual 25th National Young Informatics Contest for students, which will be held in Quang Binh Province in August.
VNS