The Ha Long-Cat Ba Alliance has called for addressing the pollution caused by waste water in Ha Long Bay and the Cat Ba Archipelago using technology.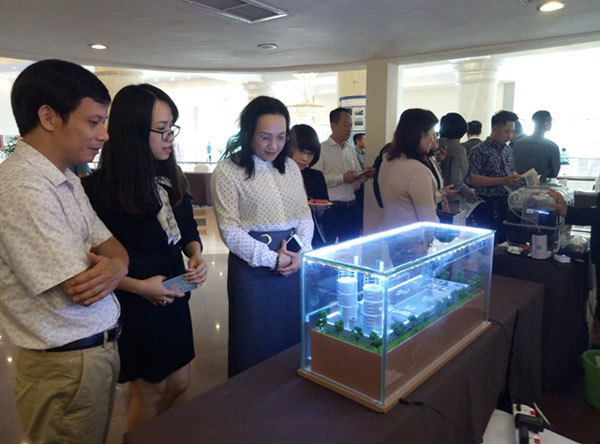 A model of a wastewater treatment system that could be installed on cruise ships in Ha Long Bay and the Cat Ba Archipelago. — Photo courtesy of the IUCN
The alliance, an initiative of the International Union for Conservation of Nature (IUCN) funded by USAIDS, raised the issue at a workshop titled "Technology and management solutions for waste water from tour boats and tourism activities in Ha Long Bay and Cat Ba Archipelago" held recently by the IUCN in Ha Long town in the northern province of Quang Ninh.
Pollution caused by waste water discharged by vessels remains a challenge despite many regulatory efforts taken by provincial and local authorities, the workshop heard.
Businesses and stakeholders presented technology and management solutions to mitigate the wastewater pollution in the area.
Organisers said the workshop was aimed at helping tour boat owners comply with new regulations by either having built-in treatment systems or using external treatment services.
Latest data released last year said around 500 tourism boats operate in Ha Long Bay, including more than 160 vessels that anchor overnight.
Besides, there are 121 boats offering tourism services in Cat Ba, including 59 overnight vessels.
Last July, at the request of the Quang Ninh Province People's Committee, the IUCN arranged for two international experts to provide guidance on sustainable tourism management and environmental protection in the bay.
They found that the site was not yet threatened by pollution but were concerned that sustained growth in visitor numbers and ineffective management and waste would pose a significant threat.
Following their recommendations, last February the People's Committee ordered all ports to provide wastewater treatment services to tour boats.
"If they are unable to collect and treat the wastewater, port owners are required to sign contracts with competent collection and treatment service providers," it said in its order.
The administration entrusted the Ha Long Public Service Department with providing the waste treatment services to the ports.
The Ha Long Bay management board has incorporated the condition into its annual contracts with tour boats, warning that they should not dispose of untreated waste water into the bay and must sign contracts with waste collection and treatment companies if they do not have on-board treatment facilities.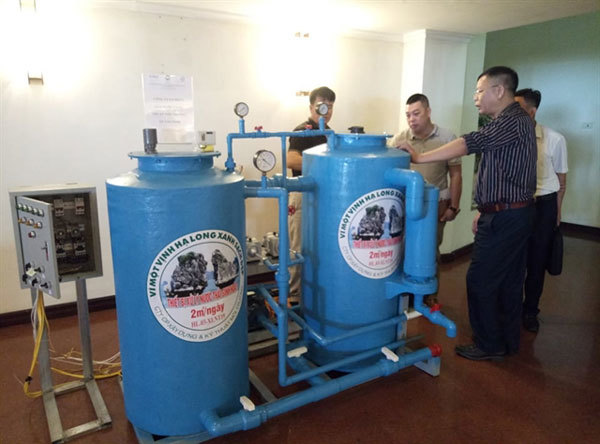 Waste water treatment equipment is introduced to ship owners in Ha Long Bay. — Photo courtesy of IUCN
Ngo Manh Dat, an official from the province Department of Natural Resources and Environment's Water Management Unit, said the department has asked the Ministry of Natural Resources and Environment to set wastewater treatment standards that would be adopted by 2020.
Nguyen Cong Hoa, director of the Cat Ba Bay management board, said there are no penalties to coerce boat owners into installing wastewater treatment systems and suppliers of such systems should offer the most compact, low-priced products to encourage them to willingly install them.
Bui Cong Hoan, a representative of the Ha Long Association of Cruise ships owners said all boat owners understood the impact on the environment of untreated wastewater from cruise ships and so supported the initiative to instal treatment systems on vessels.
But he hoped the province would soon announce the standards for the systems.
VNS
RELATED NEWS
IUCN workshop on wastewater tech solutions for Ha Long Bay boats
Wastewater ruining Ha Long Bay