The boycott campaign against disposable plastic products is urging plastic manufacturers to renew their production strategies, while giving them opportunities to switch to more environment-friendly product lines.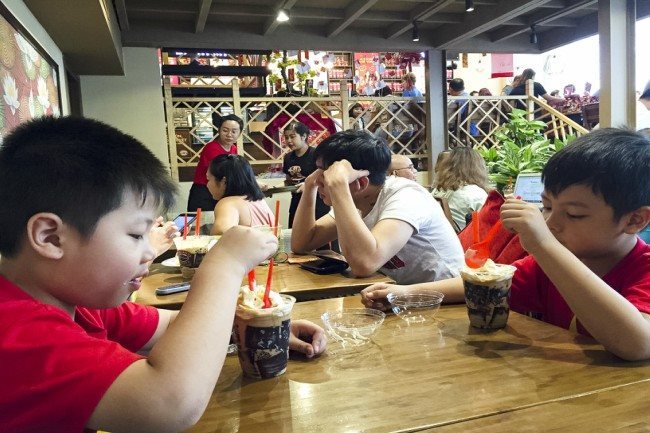 Some restaurants and cafes in Hanoi and HCMC have no longer used disposable plastic straws and cups 
At a recent meeting in Strasbourg (France), the European Parliament voted for a ban on single-use plastic cutlery, cotton swabs and straws, among others. This vote paves the way for a ban on disposable plastic items to be widely effective in all members of the European Union from 2021 onwards.
Meanwhile, in South Korea, disposable plastic bags have been completely banned from certain grocery stores since April 1. Groceries larger than 165 square meters will be subject to fines worth up to three million won (about VND61 million) if they fail to comply with the ban. Plastic packaging can be used only for wet food (tofu, fish or meat), or foods that can melt in room temperature (e.g. ice cream), and vegetables grown in soil, etc.
In the Americas, New York is about to enact a law banning the use of disposable plastic bags, becoming the second state to impose such ban, after California. As per this law, single-use plastic bags are prohibited throughout the state aiming to oblige consumers to embrace reusable bags.
Multinational corporations have also responded to this movement. According to Samsung, starting this year, their product and accessories packaging—from mobile phones and tablets to home appliances—will be made from environmentally sustainable materials like recycled plastics and paper or bio-based substances.
Earlier, Starbucks has announced they will have stopped using plastic straws at more than 28,000 stores worldwide by 2020, replacing them with recyclable lids or more eco-friendly straws. The fast food chain McDonald has unveiled the plan to switch to paper straws in the UK and Ireland, and testing the use of such straws in some outlets stateside.
In Vietnam, some enterprises have stopped trading single-use plastic products—for instance, Saigon Co.op intends to remove plastic straws from more than 600 supermarkets of various sizes starting in May. Some restaurants and cafes in Hanoi and HCMC have no longer used disposable plastic straws and cups.
An inevitable conversion
Some 60% of plastic waste on the sea originates from five countries, among which Vietnam ranks fourth, said Nicolas Audier, chairman of the European Chamber of Commerce in Vietnam (Eurocham). The ban imposed by the European Parliament affords Vietnamese businesses an opportunity to access a market whose growth is strong and consumers are ready to "spend big" on sustainable and environmentally friendly products.
Quite a few Vietnamese firms have been aware of the "green" consumption trend, Audier said, as more and more biodegradable bags and straws made from bamboo are exported, or even consumed domestically. "The market for environmentally friendly products is growing sharply," he said. If Vietnamese enterprises boost their capacity to make these products, opportunities will be bigger."
Ho Duc Lam, chairman of the Vietnam Plastics Association, said without new business solutions, a considerable number of plastic companies might have to shut down because not only Europe, but many other countries are also setting out very strict rules for this industry. "By 2021, all plastic products bound for Europe must be recyclable, otherwise they will be banned," he said. "Domestic enterprises therefore have only three years to act."
At present, the volume of Vietnamese plastic products sold to the EU remains modest, only 0.17% of the total export value, because this market mainly imports this category of goods from China, Lam said. In the short term, the ban will not hence have much impact on local enterprises. However, there is a shift in production from China to Vietnam. "The new EU regulation is likely to deal a hard blow to the domestic plastic industry in the next three years, when the legal document comes into force," Lam said.
Vietnam's plastic industry gains some 30% of its export turnover from packaging products, said Huynh Thi My, secretary general of the Vietnam Plastics Association. Therefore, when the ban on this group of products becomes effective in the importing countries, it will more or less affect plastic exporters, and players in the field should take action immediately. 
Make or break
Nguyen Le Trung, general director of An Phat Plastic and Green Environment Joint Stock Company, said his firm has made necessary investment to create eco-friendly product lines, meeting the standards of the developed countries. That includes degradable bags, cups, spoons and forks. In particular, their bags made entirely from corn starch are biodegradable in the natural environment between six months and a year without causing environmental pollution.
Hung Hau Foods Co. (Dong Thap), a company specializing in making products from rice flour like short-tube pasta, has conducted a research and developed their rice-flour straws. Receiving a good response from the market, Hung Hau started their second production line this February, taking the capacity to five tons per day, five times higher than the first line with only 100,000 units daily. Rice-flour straws produced by Hung Hau have been offered to markets like South Korea, Japan, and European countries, with many export contracts already concluded. At home, some companies are seeking to be exclusive distributors of this unique product.
Saigon Co.op said they have begun selling Hung Hau rice-flour straws and New Toyo paper straws in their supermarket chain in lieu of plastic straws.
However, for manufacturers of single-use plastic products, it is not easy to take another approach or switch to alternative product lines. Some businesses said they will stop making such products if the market no longer accepts them since this is just their "niche market." Take Dong Tam Plastic for example, disposable products only accounts for about 20% of their total revenue. That means if such products are no longer welcomed by the market, the company will focus on their key products—household plastic items.
"Machines that have long been making products from plastic beads or recycled plastic cannot use other materials. If we wish to continue this product line using other materials, we must invest in the necessary technology," said a representative of Dong Tam. "The initial investment cost is huge, while there is no guarantee the alternative materials will still be appropriate."
According to Ho Duc Lam, waste sorting at source is currently not effective. Consequently, the amount of plastic recycled is insignificant. For this reason, although Vietnam's average plastic consumption per capita is only 80th in the world, she ranks fifth when it comes to the volume of plastic waste dumped into the environment. To enable the plastic industry to be in line with the new consumption trend, the Government and the plastic association must work out solutions to waste sorting at source as the input materials for recycling. Furthermore, regulations on scrap import need to be carefully set to avoid polluting the environment and promote domestic production.
"Consumer's awareness must be fostered through waste sorting, then recycling," said Lam. "Manufacturers themselves have to acknowledge their responsibility of investing in technology which can use plastic products that can be recycled several times." SGT