FPT Corporation and Tokyo-based SBI Holdings Inc this week signed a memorandum of understanding (MoU) to invest US$3 million into joint venture Utop, a Vietnamese start-up that bridges loyalty point programmes among merchants.
 Two young men successfully start up with globalized customer support system
Google engineers try to identify Vietnamese genetic map
University students rush to start up businesses, but many fail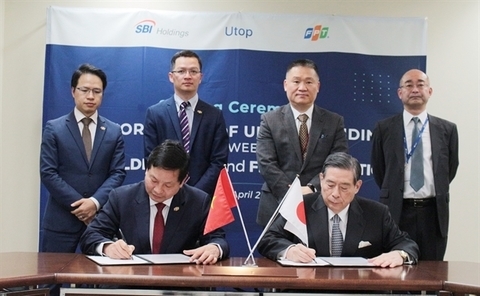 The signing ceremony. Utop, a Vietnamese startup that was developed based on FPT's business blockchain platform, bridges loyalty point programmes among merchants. — Photo courtesy of the company
Utop was developed based on FPT's enterprise blockchain platform akaChain, which has been implemented in many countries and across various sectors from finance, insurance, retail, to supply chains. It allows users to gain and redeem loyalty points at retailers within the same network, thereby enhancing customer experiences and enabling small businesses to grow faster.
Through Utop, small business could link their reward programmes with each other to reduce costs and keep data secure thanks to the multi-layered architecture of akaChain platform.
"The development of Industry 4.0 technologies has created breakthrough opportunities for businesses, mushrooming so many innovative business models. We call it digital transformation," FPT Chairman Truong Gia Binh said at the signing ceremony in Tokyo.
"Utop will play its part in growing thousands of Vietnamese businesses, bringing conveniences and interesting shopping experiences for millions of Vietnamese consumers, thereby contributing to the development of Viet Nam's digital economy," Binh said.
FPT and SBI Holdings have cooperated effectively for many past years including their joint ventures FPT Securities, e-commerce platform Sendo.vn and TP Bank.
According to Pham Nguyen Vu, co-founder and director of Utop, the platform has been tested in FPT's minimum viable ecosystem as well as sectors such as retail, insurance and finance since last December. The funding from FPT and SBI will be a great boost to help Utop solidify its foundation and take bolder steps in the future. — VNS