The Viet Nam Information Technology Outsourcing Conference (VNITO) 2019 will be held for the third time in HCM City from October 23 to 25.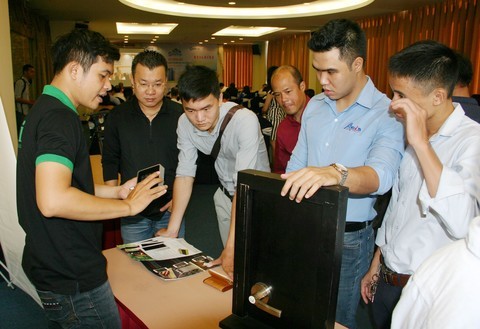 Viet Nam Information Technology Outsourcing Conference 2017. — Photo thoibaotaichinhvietnam
More than 100 Vietnamese solution providers from various fields such as e-commerce, financial technology and agriculture technology, as well as over 150 representatives from international IT companies looking for partners in Viet Nam, will gather at the conference.
With the main theme of "Viet Nam – The Emerging Destination for Innovation", the conference will provide opportunities for companies to promote their products and services, and network with potential partners from around the world.
Innovative Vietnamese tech solutions will be showcased at the event, which includes conferences, panel discussions, exhibitions, business matching, and tours.
The conference date was announced at a seminar on start-ups in Silicon Valley, organised by Quang Trung Software City, HCM City Computer Association, VNITO Alliance and Silicon Valley Global Innovation Centre.
Tran Anh Tuan, general director of Sao Bac Dau Technology Services Company, said that start-ups with limited resources should look for domestic investment funds before expanding overseas, and that many big companies in Viet Nam have dedicated funds for start-ups, especially in the technology sector.
IT is considered to be of crucial importance in Viet Nam, with revenue of the software industry at US$4.3 billion last year. Exports accounted for 80 per cent of the figure, with a growth rate of around 11.6 per cent. The US and Japan are its two main markets.