The Japan International Cooperation Agency (JICA) has advised real estate developers in HCM City to apply advanced technologies while constructing commercial buildings to reduce greenhouse gas (GHG) emissions.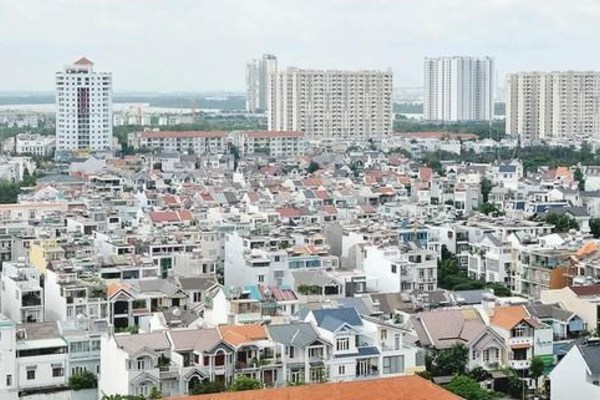 About 46 percent of the carbon dioxide emissions in HCM City comes from commercial buildings.
According to JICA's report, HCM City has been responsible for 16 percent of the country's carbon dioxide (CO2) emissions as the amount of carbon dioxide in the southern largest economic hub was estimated at 38.5 million tonnes in 2013. Particularly, 46 percent of the emissions came from commercial buildings.
Power consumption at the buildings could reach 14 billion kWh by 2030, which means nearly 12 million tonnes of carbon dioxide will be emitted to the environment.
JICA research group in Vietnam said that high speed of urbanisation and rising population are exerting more pressure on the southern hub, requiring it to have proper measures to address environmental pollution and greenhouse gas emissions.
Members of the group introduced building owners in the city to Japan's energy-saving technology projects, sustainable transport systems, urban areas that ultimate renewable energy, and development of new technologies.
According to Assoc. Prof Dr. Ho Quoc Bang, head of the JICA research group, in 2017, HCM City issued a plan to carry out the national strategy on green growth in the city by 2020. The move aims to reduce greenhouse gas emissions, increase the percentage of renewable energy, and promote green production.
In addition, a plan in response to climate change during the 2017-2020 period with a vision until 2030 was issued, paving the way for the implementation of greenhouse gas emission reduction projects in the fields of transport, energy, industry and construction.
The Ministry of Natural Resources and Environment in collaboration with JICA launched the "Support Planning and Implementation of Nationally Appropriate Mitigation Actions" (SPI-NAMA) project in HCM City in 2015. The project was designed to deal with regulations on greenhouse gas emissions, legislative actions and local authorities' responsibility.
As the project will finish in January 2020, the research group expects to receive support from the local authorities so that the project will be carried out in an effective manner.
According to Ha Minh Chau, deputy head of the climate change bureau of the city's Department of Natural Resources and Environment, the bureau will join hands with competent sectors in the city to facilitate work of the research group.
In a bid to contribute to the national greenhouse gas emission reduction programme, the city will work towards mitigating greenhouse gas emissions in urban area planning, transport, industry, waste management and agriculture, he added./. VNA

The Ministry of Natural Resources and Environment has approved a joint project with the Japan International Cooperation Agency to create a roadmap on greenhouse gas emission reduction in Vietnam.  

With a population of over 7.7 million people along with 17 industrial parks, more than 1,300 trade villages, 5.3 million motorbikes and nearly 560,000 cars, Hanoi is suffering from negative impacts caused by climate change.