The Cham Islands' Marine Protected Area management board, in co-operation with the International Union for Conservation of Nature, has launched a new garbage sorting programme as part of efforts to reduce plastic waste in Vietnam.
Cham Islands successfully protect biodiversity
Vietnam commits to reduce plastic waste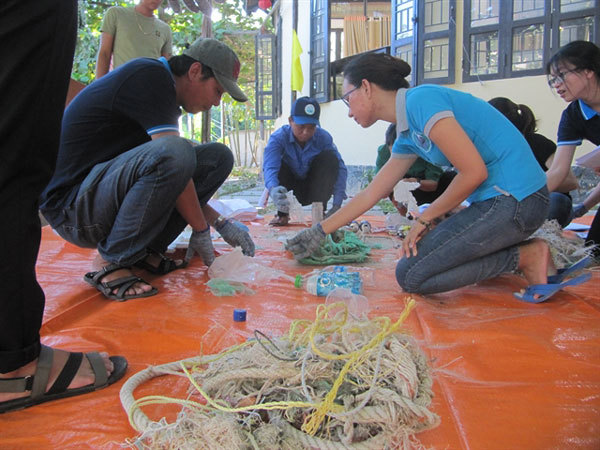 A training course of solid waste sorting opens on the Cham Islands, off the coast of Hoi An City. The Islands began a plastic waste monitoring programme.
The project is one of 12 nationwide that IUCN and Greenhub – an NGO working in waste management – have implemented to support the community in classifying waste.
Bui Thi Thu Hien, Marine and Coastal Resources Program Coordinator at IUCN (Viet Nam Office) said the programme will help staff of MPAs in Vietnam identify kinds of plastic waste.
Hien said the programme will also collect information to build a database on plastic waste and offer policy advice on how to reduce and control plastic waste and plastic production.
"It's crucial to help State agencies and ministries get clear data before offering appropriate policies in plastic waste management and production as well as supporting capacity for MPAs in waste management," Hien said.
She said the programme will take place at 12 MPAs at least once a year towards the target of 'zero-plastic waste'.
According to Greenhub, waste can be found at beaches from northern Quang Ninh Province to Con Dao Island in southern Ba Ria-Vung Tau Province, while plastic waste accounts for 80 per cent of the total solid waste at 30 beaches in Vietnam.
Cham Islands, 20km off the coast of Hoi An, is the first site in Vietnam promoting the successful reduction of plastic bags and 3-Rs (reduce, reuse and recycle) since 2011.
The Islands – a World Biosphere Reserve site – ban all use of plastic bags among local residents and tourists, and the 'say no to single-use plastic straws and cups' campaign was launched early this year.
Turtle conservation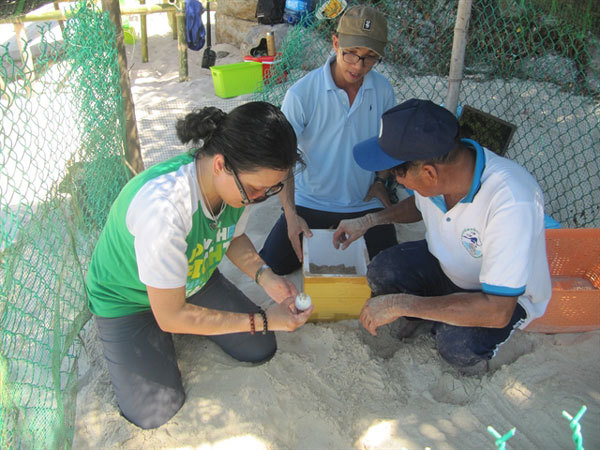 Turtle eggs are hatched at artificial nests on Cham Islands following a turtle conservation programmme launched in 2017. — VNS Photos Cong Thanh
Last week, the Cham Islands MPA moved 250 turtle eggs – the fifth trip since 2017 – from Con Dao Island National Park in southern Ba Ria-Vung Tau Province to hatch on Bac beach on the Cham Islands.
Researcher Le Xuan Ai said more than 1,600 turtle eggs had been moved and hatched on the Cham Islands since 2017, and more than 900 baby turtles had been released to the sea from the hatched eggs.
He said baby turtles (hatchlings) often return to the beach where they were born to lay eggs when they reach maturity.
The Cham Islands MPA had reserved an area of 40sq.km of beach and water on Bac beach for building a turtle conservation centre.
Coral reefs
Two coral sapling gardens have been built in water of the Cham Islands, near Bac beach, in expanding the development of coral reef population in the area as well as supplying young coral reefs for restoration in other coastal areas.
According to experts from the Cham Islands MPA, branches of strong coral reefs were grafted for replanting at poor coral reefs.
The coral reef restoration practice had been implemented since 2015, and an area of 2,000sq.m coral reefs was revived from replanted 2,700 groups of deep water coral off Bac and Tra beaches.
The coral groups were successfully developed with a survival ratio of 80 per cent, according to a report from the Cham MPA.
An area of the Cham Islands and UNESCO-recognised world heritage Hoi An City, which covers more than 33,000ha, including 1,500ha of tropical forests and 6,700ha of sea, was recognised as a world biosphere reserve site in 2009.
The Islands, including eight islets with 3,000 inhabitants, hosts more than 400,000 tourists each year. VNS
Hoai Nam