Minister of Information and Communications Nguyen Manh Hung urged internet platforms like YouTube to respect Vietnamese laws and block ad revenues to channels that contain "toxic" and anti-State contents.
More brand ads found embedded in malicious YouTube videos
Startups in Vietnam head to digital transformation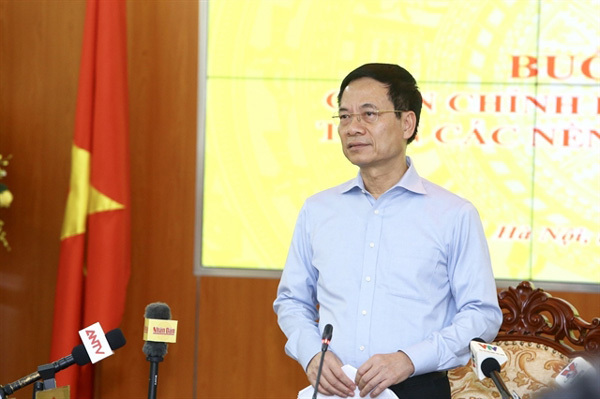 Minister of Information and Communications Nguyen Manh Hung at June 25 meeting on the advertising activities of cross-border internet platforms. — VNA/VNS Photo Minh Quyet
"Compliance with local law is the prerequisite of an upright business," minister Hung said in a Wednesday meeting with State agencies and local businesses as Vietnamese authorities ramp up efforts to require Google and YouTube to stop featuring Vietnamese companies' ads on contents deemed undesirable.
"Vietnam does not welcome any cross-border business that wants to do business here but doesn't abide by the law of the country. The Vietnamese Government will make use of all legal, economic and technical instruments to demand these businesses to follow our law," the information chief stressed.
He said as these cross-border platforms gain more users and make more money, they should shoulder more responsibility.
These companies spent a fortune on optimising their algorithms to appeal to consumers yet they do not bother with a working filter that could block out malicious, toxic content.
He noted the money Vietnamese businesses pay towards Google for advertisements should not become a source of revenue for illegal and malicious content makers, especially as it could be used to fund anti-State propaganda and activities.
He said the information ministry will work with other ministries and agencies to block Google's ad revenue payment for these disagreeable contents.
Minister Hung said the future of Vietnam and Vietnamese people could not be dependent on the "kindness of someone or some companies" and that it should be in the hands of the Vietnamese people.
"Vietnam's cyberspace is also one of our living habitats, for Vietnamese people, Vietnamese advertising agencies, Vietnamese businesses, and Vietnamese press. We should join hands to clean up this habitat and remove the dirt every day," Hung noted.
He urged Vietnamese businesses to buy advertisement placements on clean and legal Vietnamese-made platforms, which is a way to contribute to a cleaner cyberspace and the development of decent companies.
"On the other hand, advertising on malicious platforms is giving a hand to those wishing to undermine the country. Paying the evils will just enable it to grow," minister Hung said, adding that Vietnamese businesses should carefully consider their every action.
55,000 videos with illegal content
According to a report by the Authority on Broadcasting and Electronic Information under the information ministry, in the past two years Google has "actively" co-operated with the ministry in blocking and taking down video clips with toxic and inappropriate contents on YouTube at its requests.
The information ministry estimates there are currently at least 55,000 clips on YouTube which feature content it deems inappropriate, malicious and illegal. Google took down some 8,000 videos recently but the number rises by the hour.
By June 25, the Authority on Broadcasting and Electronic Information discovered 100 Vietnamese brands and companies that have had their advertisements appear in these illegal videos.
Nguyen Thanh Lam, head of the authority, said that the affected businesses have been sent a warning letter.
Nguyen Tuan Anh, a representative the popular e-commerce online shopping platform Shopee, one of the businesses whose advertisements have been featured on malicious YouTube videos, said this "negatively affects its reputation" and the company has suspended advertising on Facebook and YouTube until the issue is resolved.
Other well-known brands in Vietnam such as the motorbike maker Yamaha or the technology group VNG have worked with YouTube and advertising agencies to deal with the issues.
The Ministry of Information and Communications has issued a number of requests seeking compliance from YouTube, including a full report on ad revenues and activities in Vietnam, only paying those Vietnamese channels with legal contents and turning off suggestions towards channels with contents the ministry has flagged.
VNS