The Rang Dong JSC has said it no longer uses mercury and other toxic chemicals in it products, clearing concerns over possible contamination after the fire at its light bulb warehouse on Wednesday.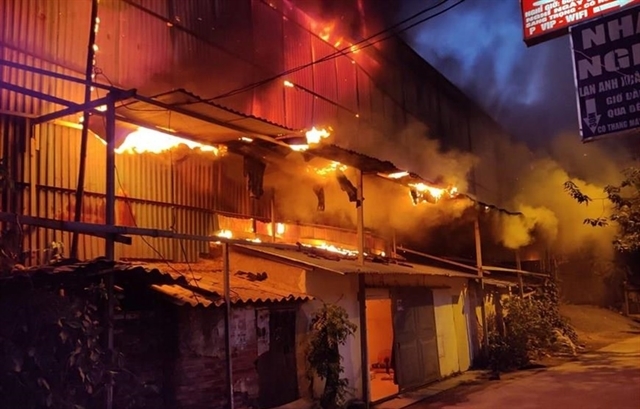 The fire at the light bulb warehouse of Rang Dong Light Source and Vacuum Flask JSC on Hanoi's Ha Dinh Street on Wednesday.
The People's Committee of Hà Nội's Hạ Đình Ward had sent a notice to the public saying that although the fire was stamped out, residue of dust and smoke had contaminated the air and could affect the health of people nearby.
The committee has warned that people should not consume food cultivated or raised within a radius of one kilometre from the location of the fire in the next 21 days. Vegetables, fruits, poultry, cattle and fish must not be consumed to protect people's health.
People have been recommended not to use water from open water tanks.
Children, the elderly and sick people should be evacuated from the area for between one and ten days.
In order to limit the harmful effects of dust and smoke, the committee has recommended families monitor the health of each member and take them to the hospital for a health check if there are signs of coughing, difficulty breathing, chest pain or fever.
The committee has instructed people to wash dirty clothes several times to remove contaminants. The clothes needed to be soaked in hot water between 70 and 80 degrees with soap for 30 minutes and then in detergent for another 20 minutes before being rinsed with clean water.
People have been urged to clean their water tanks, balconies, doors and walls with solid soap two or three times and rinse them with clean water several times.
All plants within a radius of 500 metres from the fire must be destroyed.
The fire broke out at 6pm on Wednesday at the light bulb storage facility of Rạng Đông Light Source and Vacuum Flask JSC on Hạ Đình Street.
More than 20 fire trucks were mobilised at the scene and the blaze was put out five hours later.
The initial loss was estimated at VNĐ150 billion (US$6.45 million). — VNS