Efforts to develop an information technology (IT) workforce were highlighted during a dialogue between Prime Minister Nguyen Xuan Phuc and representatives of leading Japanese technology groups in Japan on Friday.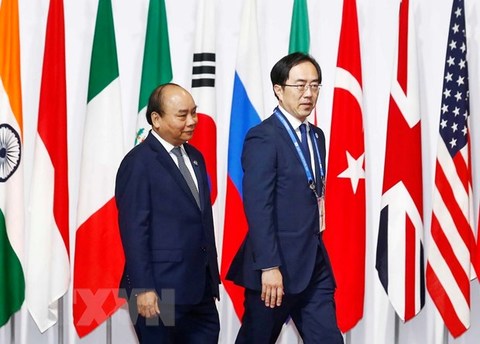 Efforts to develop an information technology (IT) workforce were highlighted during a dialogue between Prime Minister Nguyen Xuan Phuc and representatives of leading Japanese technology groups in Japan on Friday.
The dialogue was held during the Prime Minister's visit to Japan to take part in the 14th G20 Summit at the invitation of Japanese Prime Minister Shinzo Abe from June 27 to July 1. At the dialogue, PM Phuc answered a variety of concerns raised by the firms.
Speaking at the meeting with representatives of 25 Japanese groups, including Toshiba, Fujitsu, Hitachi, Daikin, Mazda, Mitsui, Omron and Yamaha, he said Viet Nam was striving to become a cyber hub in ASEAN by focusing on building national databases and ensuring information security.
"Viet Nam will this year issue a digital transformation strategy for the whole economy and society, giving priority to investment in information infrastructure and deployment of the 5G network in 2020," he said.
Vice Chairman and CEO of Fujitsu Corporation Naoyoshi Takatsuna said IT services change rapidly, requiring quick and adaptable human resources. Developing and fostering a skilled IT workforce is indispensable for social infrastructure construction in Viet Nam.
"We hope to provide stable and high-quality IT human resources for the country," Takatsuna said.
Takatsuna said he expected the Prime Minister to explain the strategic direction of Viet Nam's IT human resources.
Prime Minister Phuc said in response that Viet Nam identified human resources as one of the most important factors in the sustainable development of the country and the IT industry. The Vietnamese Government had targeted having one million hi-tech workers by 2025.
He said Viet Nam had set up many strategies and programmes aimed at developing international-standard IT human resources to meet domestic demand and supply highly skilled workers to the region and the world.
"The strategy will focus on developing IT human resources in the field of Industry 4.0, including artificial intelligence, the Internet of Things and big data to make a breakthrough for Viet Nam's IT industry on the world stage and promote the country's economy," PM Phuc said.
He said Viet Nam wanted Japan's leading universities, research institutes and IT enterprises to support its effort to develop programmes, curricula and laboratories for training and researching new subjects such as blockchain, cloud computing technology and cybersecurity.
The Prime Minister also proposed Japan support Viet Nam in updating the standards for professional IT human resources.
Junko Watanabe from Nidec Corporation said her firm had been doing business in the Vietnamese market since 1998. The firm plans to invest in Hoa Lac Hi-tech Park.
She said she expected the Vietnamese Government to improve its construction licensing process to facilitate foreign businesses. She also urged the Government to support the training of skilled workers.
PM Phuc said the Government had assigned the construction ministry to research, review and propose methods to improve construction licensing procedures by simplifying permit dossiers and reducing the time needed for design evaluations.
"We always listen to, revise and improve all kinds of procedures to create the best conditions for investors," PM Phuc said, "I hope Nidec will speed up investment in Hoa Lac Hi-Tech Park, where it will receive great incentives from the Government."
President and CEO of Toshiba Digital Solutions Corporation Hironobu Nishikori questioned Prime Minister Phuc, saying: "You talked about the plan to train one million IT workers. Is there a Vietnamese Government-business-Academics co-operation strategy to strengthen and accelerate the process of human resource training?"
The Prime Minister said "Viet Nam values co-operation between the Government, businesses and academics in strengthening the process of training human resources in IT. Collaboration is seen as one of the key solutions to improve training speed and quality and meet the requirements of the technology industry".
At the meeting, PM Phuc said Viet Nam was trying to build an e-Government and an e-Cabinet as a basis for the development of a digital economy.
"Developing the digital technology industry will make Viet Nam one of the leading manufacturers of electronics and telecommunications equipment and exporter of software and information technology services in the world," he said.
According to the Prime Minister Viet Nam has a large young labour force under the age of 35, accounting for 65 per cent of the population. The middle class accounts for 15 per cent of the population and is growing rapidly, expected to increase to 50 per cent of the population by 2030, creating an attractive market for investment. — VNS
Theo bizhub.vn