Regional co-operation will be essential in preserving the marine environment and ensuring sustainable fisheries management and food security in the ASEAN region. 
Regional workshop discusses marine plastic waste management
Vietnam moves to develop responsible fishery industry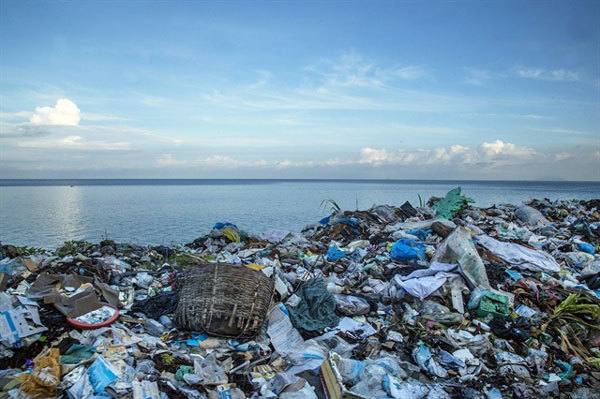 Rubbish, mostly plastic, strewn across a beach on Hon Son island in the southern province of Kien Giang. — VNA/VNS Photo Nguyen Vu Thanh Dat
Vu Ho, director-general of the ASEAN Department under the Ministry of Foreign Affairs, said at an international workshop held in the central province of Khanh Hoa yesterday that marine debris, including micro-plastics, was a global threat to marine organisms, ecosystems, human health and socio-economic development.
"Five of the top 10 global polluting countries are ASEAN members," he said. "Marine debris crisis requires urgent collective action and co-operation for achieving an effective and sustainable solution."
Current studies suggest that 8 million tonnes of plastic end up in our oceans every year, the equivalent of one garbage truck full of plastic dumped into the ocean each minute, Ho said.
"Vietnam recognises the critical importance of our ocean and the resources for the future of our people. We have established 15 marine economic zones to develop fishery logistics, seaports, sea-based tourism and maritime scientific research," he said.
A State management system on seas and islands has been created from the central to local level, while policies, laws and legal documents in the field have been devised.
Ho and more than 90 representatives from the ASEAN Regional Forum (ARF) are taking part in a three-day workshop discussing marine debris, sustainable fisheries and food security in Southeast Asia.
Recently, the 12th Party Central Committee issued a resolution on a marine economic development strategy by 2030, with the aim of intensifying the sustainable development of the marine economy.
The Vietnamese Government has also developed a National Action Plan on Management of Ocean Plastic Waste.
The ASEAN region, with a vision by 2025, is committed to preventing and significantly reducing marine pollution, including marine debris, according to Ho.
"I hope the workshop will serve as a platform for ARF participating members to share experiences, best practices, and strengthen collaboration on tackling marine debris issue together," he said.
Caryn McClelland, deputy chief of mission at the US Embassy in Hanoi, noted that oceans were the world's largest shared resource.
"A healthy, productive and resilient ocean contributes to economic growth, creates prosperity, and ensures food security for people around the globe."
Experts estimate that 80 per cent of marine debris is mismanaged waste that enters the ocean from land-based sources. A good portion of the rest is waste pollution from ships and abandoned, lost or discarded fishing gear, she said.
"Ocean plastics pollution threatens our beaches, our food supply, and the ocean's biodiversity. It demands a broad and comprehensive set of solutions," she said. "We need stakeholders to develop and implement plastics management strategies to prevent and reduce marine plastic waste."
The US is cooperating with NGOs, industry, academic experts and partner countries to strengthen co-operation on global, regional and local solutions to reduce plastic waste in oceans, she said.
The challenge is particularly acute in the Indo-Pacific region, which encompasses more than half of the Earth's surface and more than half of the world's population.
Two-thirds of global trade also happens here, and the strategic importance of the region's economy is growing day by day, she said.
"The largest sources of plastic waste are all in the Indo-Pacific, but we also see opportunities to improve technical capacity and address financing gaps for critical waste-management infrastructure," she added.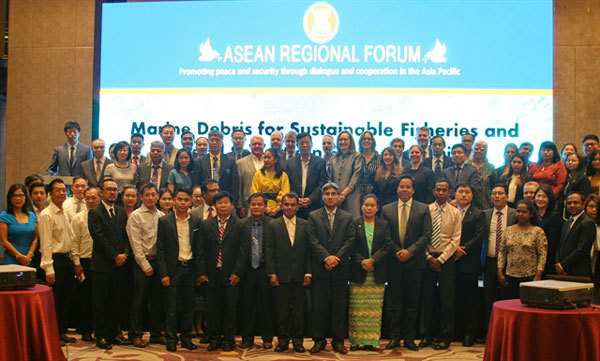 More than 90 representatives from the ASEAN Regional Forum are taking part in a three-day workshop, which opened yesterday in Nha Trang in the central province of Khanh Hoa. Photo courtesy of the Ministry of Foreign Affairs
"Reducing ocean plastic waste requires a holistic approach that decreases demand for single-use plastics; incentivises recycling; strengthens local waste collection; and invests in long-term waste management solutions," she said.
"We need collaboration between local and national governments; grassroots organisations, civil society, and schools; businesses up and down the recycling value chain; and development organisations, researchers, and international NGOs," she added.
Usana Berananda, Deputy Director General of the ASEAN Department of the Thai Ministry of Foreign Affairs, said marine debris was one of the key environmental issues at the global level and within the ASEAN region.
"Marine debris is a critical concern for ASEAN as approximately 70 per cent of ASEAN population lives in coastal areas. Most importantly, several of us are among the world's largest contributors to marine plastic pollution."
"In Thailand, we lose hundreds of marine species, including sea turtles, dolphins and whales each year. Many of them become stranded on beaches, suffering from injuries caused by fishing gear and from eating plastic waste," she noted.
In the course of ASEAN economic development, the marine environment has been hugely sacrificed for economic prosperity, she said.
"We hope this workshop will help form a newfound resolve, involving sound waste management, a circular economy, sustainable materials management, and the 3R approach of reduce, reuse, and recycle to prevent and reduce marine pollution of all kinds, in particular from land-based activities," she said.
"Given the transboundary nature of the challenge, an integrated and coordinated response, by engaging all relevant stakeholders in the region, is key to resolving marine debris pollution in a holistic and sustainable manner."
Against this backdrop, ASEAN has strengthened its efforts to address marine debris, through initiatives such as the ASEAN Community Vision 2025 and the UN 2030 Agenda for Sustainable Development.
In the past few years, a number of meetings and workshops have been organised to underscore the need for regional action to prevent and reduce marine debris.
In March this year, Thailand organised the Special ASEAN Ministerial Meeting on Marine Debris.
The workshop in Khanh Hoa is co-chaired by the governments of Vietnam, the US and Thailand, as approved by the 25th ARF Ministerial Meeting in Singapore last August.
VNS