With the support of technology, domestic companies have been contributing to building a smarter and better life for Vietnamese people via smart homes.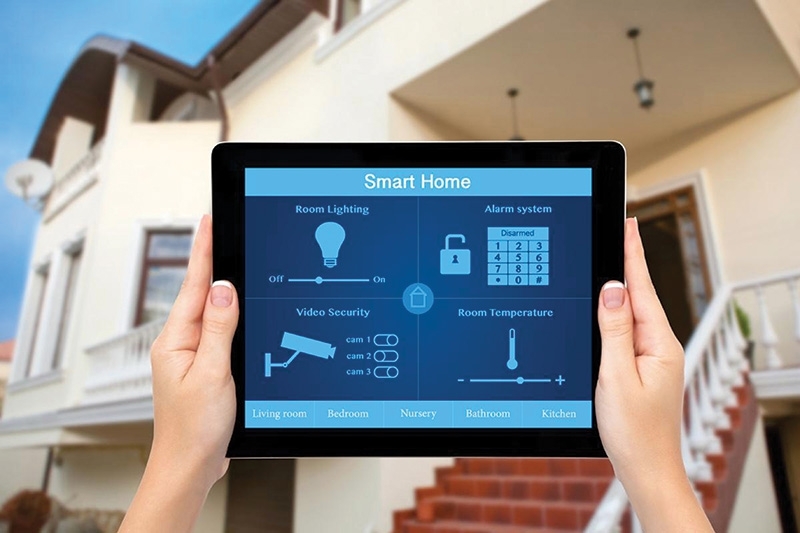 People are now gaining access to more innovations involving their daily lives, from air quality monitors to doorbells that can produce images
Late last month, ­domestic property investor ­Vinhomes JSC under Vingroup officially launched Vinhomes Smart City in South Tu Liem district of Hanoi.
According to the information released by the company, Vinhomes Smart City will be based on four core pillars, including smart security, smart management, smart community, and smart homes.
Accordingly, the company will build a security network with multi-layered surveillance cameras which integrate ­Artificial Intelligence (AI).
In addition, intelligent elevator and fire protection systems in the township will help monitor air quality and warn of environmental pollution. Residents will be able to update on traffic status in the wider city and the township via a user-friendly smartphone app.
There will be a centralised operating centre applying AI and the Internet of Things (IoT) technology to monitor, operate, detect and promptly handle problems around the clock. Besides, there will also be Wifi infrastructure throughout ­Vinhomes Smart City, front door camera, and smart car parks which will offer residents convenience and save time.
"Projects using technologies to organise life and architecture should be encouraged. Vinhomes' orientation promises to bring a really convenient living environment," Nguyen Quoc Thong, vice chairman of the Vietnam Association of Architects, told VIR.
Elsewhere, architect Tran Huy Anh from the Hanoi Association of Architects highly appreciated the Vinhomes smart city model. "Covering 280 hectares with all-inclusive facilities, Vinhomes Smart will be one of the pioneering products ­synchronously applying ­technologies in a large space," said Anh.
Before Vinhomes, domestic real estate developers have also developed their projects in a smart way. Dai Phuc Group introduced its smart home model in Van Phuc City project in Thu Duc district of Ho Chi Minh City. In this 189ha project, the group has used some types of smart fire alarm equipment, home management app on mobile phones, or door opening equipment through face recognition.
Meanwhile, in Ecopark, one of the first smart model of urban residential areas in north-eastern of Hanoi invested by Viet Hung Urban Development and Investment JSC, residences can use smartphones to control light system and air conditioning, allocate their Ecobus as well as know the time the bus comes. Besides, the developer is planning to deploy the system of electric vehicles in urban areas to help children go to school and take people to the gym and supermarkets.
Tech for a better life
While smart models are welcomed by domestic real estate investors, smart home models have been deployed by Bkav, a Vietnamese technology group, for a few years and received a warm welcome by both users and architects.
As one of the first ­customers of Bkav SmartHome, Vietnamese music composer Huy Tuan said, "Previously, I didn't trust in technology from ­Vietnam, especially high-tech products. However, these smart home products proved me wrong," he said.
According to Tuan, all electrical appliances in his house are connected to a ­network which can be ­controlled, including lighting, curtains, air conditioning, ­television, sound and door-locking systems, heater, a front door camera and doorbell, and watering pump.
"We can directly control them through control panels ­attached to the wall or through smartphone, iPad, or a tablet. It is easy to check the house, which makes it quite safe. We can turn on or off the fans or television even from far away," he said.
Meanwhile, Hoang Nguyen's smart home at Ecopark, also installed by Bkav SmartHome, is quite different.
"When I receive visitors, I only need to tap to activate 'welcome mode' and the lights in the living room will automatically turn on, the curtain fold, the air conditioner turns down, and the music volume lowers, saving me a lot of moving around and pressing buttons," Nguyen said.
According to him, instead of closing the curtains, locking the door, and turning off appliances at bedtime, he simply climbs into bed and taps on the relevant button on his phone or tablet, and the system takes care of everything. "When I touch 'go to bed,' it also turns on the security system, so I can totally put my mind at rest."
In Nguyen's house, the smart lighting system detects the presence of people and turns the lights on and off accordingly. "The lighting is also automatically adjusted according to the owner's preferences and settings. For example, in welcome mode all lights are turned on," Nguyen added.
Having had a chance to experience Bkav's smart home solutions, architect Huy Anh said, "A Vietnamese enterprise is using its own technologies to help people manage and control everything from anywhere, anytime. It's great."
He added that Bkav's models are still on a small or narrow scale and are applied for individual homes, without making synchronous systems like the model of Vinhomes. "Synchronisation will provide products at a more suitable price than individual or small-cluster installations. However, both models make life smarter and better through technology."
Smart future trends
According to German-based market research firm Statista, revenue from the Vietnamese smart home market will reach $83 million in 2019, doubling from the previous year.
Meanwhile, Yoon Young Kim, general director of Schneider Electric in Vietnam, Cambodia and Myanmar, said that using smartphones is increasingly popular in Vietnam, technologies trend to strongly impact people's life. This change is making household electronics market IoT and digitalised.
The global scale of smart home market is expected to reach nearly $53.45 billion in 2022.
Last August, the Government Office released a ­decision approving a strategy on sustainable smart city development in Vietnam for the period of 2018-2025 with ­orientation towards 2030. ­Accordingly, in the first phase of the strategy, the country will pilot urban areas between 2025 and 2030, after which the model will be replicated in major cities, building out a network linking smart urban areas.
Specifically, the government will support the ­development of three smart urban areas, and organise ­investment in infrastructure and the development of ­applications for smart urban areas' utilities.
Furthermore, research and development of applications, technologies and solutions on smart urban planning,­ ­intelligent urban management, early warning, and ­intelligent urban utilities to serve organisations, individuals, and communities in urban areas are also encouraged. VIR