The extensive use of agrochemicals in Northern farms has raised alarm bells for not only consumers but also farmers engaged in manual labour and the environment.
Killing pests, chemical substances killed the soil as well
Engineer develops drones for farmers
Pesticides endanger north VN granary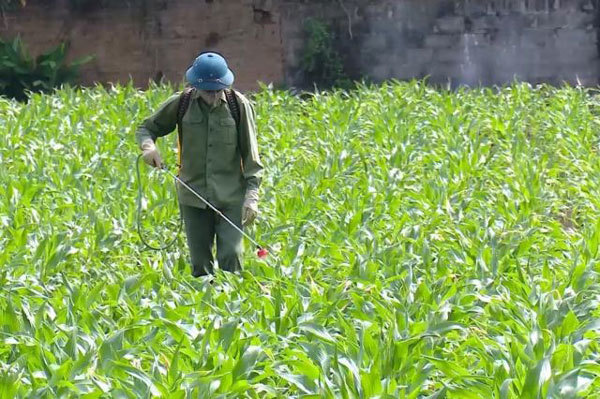 A farmer sprays pesticides in the northern province of Son La. VNA/VNS Photo Nguyen Cuong
Canals and reservoirs which once were home to countless fish have turned into stinky, murky bodies of stagnant water.
While standing in front of a heavily polluted river, Luong Van He, head of Phuc Thanh Commune in Kinh Mon District, the northern province of Hai Duong, recalled when the local rivers offered people a livelihood and the chance for a relaxing dip.
"The abuse of synthetic herbicides has killed all fish and prawns. Frogs which usually appeared in the paddy fields during the rainy season now are hardly seen," he said.
Many residents of Minh Tan Commune in Hanoi's outlying district of Phu Xuyen still hold vivid memories of lush countryside before the invasion of chemical pesticides.
Streams on which they once relied for fresh water and food have been contaminated.
Water spinach still grows along these channels but no one dares to eat it, worrying they will be poisoned by chemicals.
"Days when we could catch fish during the rainy season have faded away," a farmer told Sức khoẻ và Đời sống (Health and Life) newspaper. "As pesticides are washed away into ditches and rivers, how can fish survive?"
Last year, 85 per cent of farmers tested in the northern province of Ha Nam were found to have pesticide residue in their blood, according to the National Institute of Occupational and Environmental Health under the Ministry of Health.
Check-ups in Hanoi showed more than half of 67 farmers tested suffered severe pesticide exposure.
With 70 per cent of the population working in the agricultural sector, agrochemical exposure seems to be inevitable in the country.
According to a report by Viet Nam Customs in 2018, the agriculture sector spent about VND52 billion (US$2.2 million) a day to import pesticides, mostly from China.
As many as 4,000 pesticide products are sold in Vietnam and a huge amount of synthetic fertiliser is sprayed on fields nationwide.
Farmers are mainly exposed to agrochemicals when spraying fertiliser and pesticides, as well as when cleaning their equipment.
The danger is also present for those who do not directly deal with chemicals since the substances can absorb into the soil or leak into neighbouring fields.
Proper use of protective equipment can help reduce farmers' exposure to the toxins.
Despite also being in Phu Xuyen District, Van Tu Commune has witnessed a totally different situation.
"Local farmers stopped using pesticides seven years ago," said communal head Nguyen Ngoc Vuong. "They prefer catching pests and golden apple snails by hand to using chemical solutions."
Hanoi's My Duc District is a pioneer in applying the System of Rice Intensification (SRI) which allows an 80 per cent reduction in the use of agrochemicals.
SRI is a low-water, labour intensive method using younger seedlings.
At first, the system was opposed by local farmers afraid of poor crops. However, thanks to the high productivity the method has brought, its application has been expanded over the past ten years.
Nguyen Manh Phuong, deputy head of Hanoi's Plant Protection Department, said 5,000 training courses on SRI and Integrated Pest Management (IPM) have been offered to more than 120,000 farmers with the expectation of bringing agrochemical use under control.
Pesticides imported to Vietnam still enjoy tax-free status following decree 134/2016/NĐ-CP, introduced to support farmers.
Experts have said the policy encourages people to use more pesticides or even mix different types of chemicals together.
The Ministry of Agriculture and Rural Development is still the sole agency in charge of licensing farming chemicals.
Therefore, there is an urgent need for collaboration between MARD and the Ministry of Natural Resources and Environment to evaluate the impacts of those chemicals on people's health and the environment and to develop more inclusive policies and solutions.
"The Government should create favourable conditions for farmers to apply nanotechnologies in farming which require large areas of soil," said Nguyen Duc Hien, director of Phuc Thanh Agricultural Cooperative in Kinh Mon District, Hai Duong Province. "The implementation of new technology will help reduce the amount spent on pesticides by 50 per cent each year."
VNS